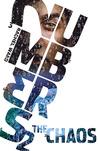 The Chaos by Rachel Ward
My rating: 4 of 5 stars
The Chaos by Rachel Ward is the sequel to Numbers. In the first book, Jem is a girl who saw numbers whenever she would look people in the eyes and that, for her, was more of a curse than a gift. The numbers represent the dates of when people will die. This has always made her life difficult.
In The Chaos, Jem's son, Adam, inherits her ability to see numbers. But, the gift has also further developed because Adam can also see and feel how the person will die. His childhood is just about as difficult as Jem's was. It is a terrible thing to know when and how someone will die. Like his mother, Adam faces a situation where too many people have the same numbers and it is taking a heavy toll on him.
Sarah suffers from recurring nightmares which make her life a living hell. That and another secret she is keeping. In her dream, she sees the scarred face of a demon who tries to take a baby she is carrying away from her while there is fire everywhere. The nightmares are terrible and frightening. To make things worse, she starts attending her new school and she sees the face of the demon that haunts her dreams.
Adam's and Sarah's futures become intertwined and they find themselves having to face so many challenges that threaten to change the world forever.
The Chaos is one good book. I was unable to put it down the moment I started reading it. The story is gripping and Rachel Ward really shows off her great writing talent. The characters are just so alive and realistic that it is easy to imagine myself in their situation.
I cannot wait to read the next book in the series, Infinity.
View all my reviews