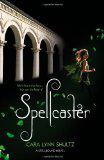 Spellcaster by Cara Lynn Shultz
Pages
: 384
Grade
: 8+ (violence, some PG-13 sexual content)
Publisher
:
Harlequin Teen
Series
: Book 2 of Spellbound
Source
: Netgalley
Amazon
|
Goodreads
Description
: Finding your eternal soulmate - easy. 
Stopping a true-love-hungry evil - not so much… 
After breaking a centuries-old romantic curse, Emma Connor is (almost) glad to get back to normal problems. Although...it's not easy dealing with the jealous cliques and gossip that rule her exclusive Upper East Side prep, even for a sixteen-year-old newbie witch. Having the most-wanted boy in school as her eternal soul mate sure helps ease the pain-especially since wealthy, rocker-hot Brendan Salinger is very good at staying irresistibly close.... 
But something dark and hungry is using Emma and Brendan's deepest fears to reveal damaging secrets and destroy their trust in each other. And Emma's crash course in über-spells may not be enough to keep them safe…or to stop an inhuman force bent on making their unsuspected power its own.
Thoughts
: Early on the whole "soul mate" thing was really cheesy and a bit of a turnoff, but as I reconnected with the characters it bugged me a lot less. I enjoy Emma as a main character - she seems like someone I'd actually be friends with, though her internal monolog about Brendan can get a little obnoxious to listen to. I do appreciate that Cara Lynn Shultz gives her characters doubts and insecurities. Too often the soul mate schtick comes with a total blind faith that's just not realistic. I'm not the biggest Brendan fan. I think I share Angeqlique's opinion of him - that he kind of deserves some of the crap he gets, but at the end of the day he's basically a good person and wants to be, so he's okay by me. The "sex on a stick" line is way over used and Emma's rival, Kristen's undying obsession with Brendan is both obnoxious and a little unbelievable. A guy only has to be down on a girl so many times before even the thickest skinned girls will give up and go elsewhere. I loved Angelique as the voice of doubt and reason. When the soul mate thing was getting too cutesy and puke inspiring, she was there to say so and bring everyone back to the real world. Without her as the voice of reality this book would have been too over the top for me.
This is definitely a plot driven book (series). While the characters aren't totaly flat, there isn't really all that much to them. The action happens to them and they react accordingly, they aren't pushing the action forward. The result is a fast faced twisty plot. There's lots of fighting (love that Emma can hold her own defending herself) and clever little turns.
One thing Cara Lynn Shultz does that I wish more authors did was give magic a price. I love that it costs the characters something to use magic and that the world always balances itself.
The cool thing about this follow up is that you don't have to have read the 1
st
book and there's no life-or-death cliffhanger that so many 2
nd
books do. This reminds me a bit more of Morganville Vampires - each book builds on the one before, but it isn't absolute that you read the first one, then the second, etc.

Fun, fast paced, quick read.