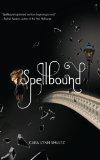 Spellbound by Cara Lynn Shultz
Pages: 324
Grade: 9 + (violence, attempted rape, some language and talk of sex)
Description: What's a girl to do when meeting The One means she's cursed to die a horrible death?
Life hasn't been easy on sixteen-year-old Emma Connor, so a new start in New York may be just the change she needs. But the posh Upper East Side prep school she has to attend? Not so much. Friendly faces are few and far between, except for one that she's irresistibly drawn to—Brendan Salinger, the guy with the rock-star good looks and the richest kid in school, who might just be her very own white knight.
But even when Brendan inexplicably turns cold, Emma can't stop staring. Ever since she laid eyes on him, strange things have been happening. Streetlamps go out wherever she walks, and Emma's been having the oddest dreams: visions of herself in past lives—visions that warn her to stay away from Brendan. Or else.
Thoughts: This book was very unexpected. The description led me to believe that Emma was landing herself in some kind of Hogwarts, instead it's a slightly more gothic tale of reincarnation and lost loves. This book is what I had hoped The Eternal Ones would be. It's not the best writing on the planet and some of the characters are pretty flat, but overall I really enjoyed Spellbound.
Brendan never really sparked for me. He was the pretty standard "cute rich boy". He wasn't a jerk but there was nothing about him that I found particularly compelling either. And all the periphery characters were just stereotypes, right down to the mean girl and her rich manipulative boyfriend.
I did really like Emma though. Her story was very compelling and I liked how she tried hard to balance being a normal teenager and dealing with her past. The plot wasn't bad either. It was just complicated enough to stay interesting and engaging while not being over done or weighed down by details.
The ending was slightly predictable but still fun and a page turner. I'm not lusting after the follow-ups for this series, but will definitely continue reading hem.



Spellbound is a quick fun read. Perfect for the weekend or vacation.
Spellbound is part of the Debut Author Challenge.