Monday of this week, marked the sale of cook book "Small Adventures in Cooking" by the founder of the Secret Larder Supper Club and influential food blogger, James Ramsden.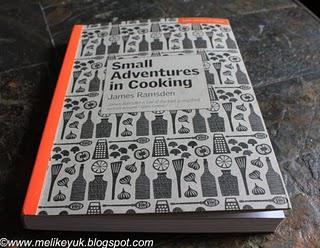 Book Review: Small Adventures in Cooking by James Ramsden
MelikeyUK was given this book by Quadrille Publishing to review. Here are my thoughts:
Pros:
The Book Delivers Exactly What The Title Describes:
Small adventures in cooking. The book can be used by anyone who enjoys cooking with the emphasises on pushing the boundaries of their culinary habits that bit further.There is a strong sense of encouraging the reader to experiment with unusual and novel ingredients while having fun and trusting your instincts throughout the whole process.I thought it was refreshing how relaxed James' approach to cooking was, removing the anxiety and inspiring confidence.
This Book Speaks To Me:
At the risk of sounding like Ali G, this book keeps cooking and tales from the kitchen "real".
What do I mean? I think James has tapped into something unique here.The fact that he has made errors and talks about them so openly and frankly really strikes a chord with me and all at once I am put at ease. I find preparing food a cathartic process and quite often I can be found in my kitchen with a glass of wine, volume on radio up full bung while I de-shell my broad beans. James describes the process as "involuntary meditation" and I'm sure others can relate to this too.It is also reassuring to know that even the best chefs do not need to use several ingredients and complicated techniques to come up with delicious and wholesome meals and they do not all have large kitchens so tips such as "wash up as you go" in the "Keep a karma kitchen" section are very much appreciated!
Variety and Broad Appeal:
The book itself has been well structured and presented. It has eight chapters depicting different scenarios, ranging from "Exploring the Cheap Cuts" where James tinkers with budget but noteworthy ingredients such as Ox Cheeks, to "Formal Forays" for the more special dining occasions. Each chapter is prefaced with a gentle introduction describing the scenario and sets an expectation of what is to ensue.
Application:
Will I use these recipes at home? Yes!There are so many recipes in this book, I would challenge anyone not to be tempted by one of them. Yesterday with the remaining ingredients in my fridge and cupboard, I made his "Chicken and Coconut Noodle Soup".I would easily attempt 60% of the recipes in this book.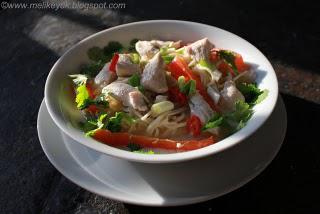 From the Va Va Voyages Chapter: Chicken and Coconut Noodle Soup
Ingenuity:
Who would have thought of coming up with a chapter on "Corner Shop Capers". What a novel idea!This chapter is dedicated to what delights you can rustle up using tinned food bought from the local shop after a heavy night of drinking or simply, if you have the "midnight munchies". We have all been there, so don't knock it until you have tried it! Whoever thought there would be a market for tinned fried onion? The ultimate guide for students I think!
Little Extras:
At the foot of some recipes a few alternatives are offered;"Tart": A suggestion to enhance the recipe by adding a certain ingredient"Tweak": A suggestion to change or substitute an ingredient in the recipe"Tomorrow": A suggestion of how you can use the leftovers the following day.
One of my favorite suggestions is to have a "Wasabi Chicken Salad" using leftover Roast Chicken. A predicament I frequently find myself in after preparing a Sunday Roast Dinner.Additional tips are supplemented. For example, recommending the use of lemon juice to remove chilli oil from your hands and taking the chicken out of the fridge two hours before putting it in the oven so that it can adjust to room temperature before roasting.While other chefs may know these tips, they very seldom express them!  
Size:
The book does not come in encyclopaedia size. Containing 109 recipes, it is small and compact enough to fit nicely on my bookshelf.
Price:
The recommended retail price is £14.99 but the book can be purchased online at
Amazon for £8.49
 which is a fair and reasonable price.
Cons:
These would not detract from my cooking experience but would merely enhance it!
Time Indication:
This is a personal preference of course, but I like to know at the outset how long it takes to prepare and cook a meal. Within the body of the directions, timings are alluded to but there is no overall time allocation indicated on the page
Recipe Description Text Used:
One of the things I enjoy doing is flicking through a recipe book and stopping at a page whose description grabs my attention. The text used to describe the recipe in the headline is less easy on the eye and so I am unable to do this. Not all of the recipes have photographs and as beautiful as they are, they cannot be relied on alone to grab my attention.
In summation, I have really enjoyed leafing though this book. On many occasions, I find myself agreeing and smiling as he has captured my many thoughts and concerns when it comes to my cooking quandaries. It has reminded me why I enjoy cooking so much and ignited a notion for discovering and using new ingredients.
I will definitely be jumping into James' book for inspiration in the weeks to come. I have already earmarked the "Spice Roasted Leg of Lamb with Cumin Potatoes" and the "Lemongrass and Basil Granita with Vodka".
Overall MelikeyUK Review: 9/10
I would like to extend my thanks to Quadrille Publishing for introducing me to Small Adventures in Cooking.
Small Adventures in Cooking can be found 
here
You can find James on twitter
here
or,
visit his website at 
http://www.jamesramsden.com/