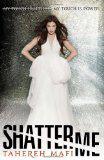 Shatter Me by Tahereh Mafi
Pages
: 352
Grade
: 8+
Series
: Shatter Me #1
Publisher
:
Harper Collins
Source
: Borrowed from the Library
Amazon
|
Goodreads
Description
: (from Goodreads) Juliette hasn't touched anyone in exactly 264 days.
The last time she did, it was an accident, but The Reestablishment locked her up for murder. No one knows why Juliette's touch is fatal. As long as she doesn't hurt anyone else, no one really cares. The world is too busy crumbling to pieces to pay attention to a 17-year-old girl. Diseases are destroying the population, food is hard to find, birds don't fly anymore, and the clouds are the wrong color. 
The Reestablishment said their way was the only way to fix things, so they threw Juliette in a cell. Now so many people are dead that the survivors are whispering war-- and The Reestablishment has changed its mind. Maybe Juliette is more than a tortured soul stuffed into a poisonous body. Maybe she's exactly what they need right now.
Juliette has to make a choice: Be a weapon. Or be a warrior.
Thoughts
: 
What I liked: 
Finally! A character that recognizes "insta-love" for what it is - raging hormones. I loved that Adam took the time to talk about that. He explained that he's been "in love" with Juliette since childhood and that now that they are spending time together and in these crazy circumstances his hormones are taking over. I really dug their history together, the years of unrequited love finally taken over by hormones with the real possibility of developing into a deep lasting relationship - one of the more realistic explanations/portrayals of love/lust that I've read in (non-romance/contemporary) YA.
I also liked the "Reestablishment is tricking everyone" slant. It made the set-up for the dystopian a little more realistic than some of the other dystopians, which makes the entire story so much more believable and scary.
I really dug the the Professor X slant towards the end or the book and in fact, thought this is where the book should have started. I'm curious to see where this goes. I'll definitely be picking up the next book to see where this goes.
I also really liked the subtle transition from 50% of sentences being blacked out to only one now and then, at first the blacked out writing irritated me, but after awhile I thought it was a really fascinating device to explore Juliette's sanity and stability - interesting touch. 
What I didn't like:
Towards the end, the story really started jumping around - especially during the final "attack". I got pretty hard to follow. There was some time/scenes missing and continuity became an issue. I had to stop and ask "Wait, what's going on here?" more than once.
Everyone seemed older to me. Adam should have been early 20's and Warner should have been in his late 20's. Juliette felt true to her age, but I didn't really buy that everyone else was so young, that being said, it didn't really distract me so I guess it doesn't matter.
I was a little disappointed in the "attempted rape" scene (I know, I'm weird). It could have been really powerful, but mostly it felt like a drunk at a bar slobbering on a girl who really doesn't want to kiss him. Warner had all the power and that scene really could have taken Shatter Me to the next level. This isn't really a book about rape though, so making that scene more intense is probably neither here nor there, it just felt like it was shied away from.

Overall, good fun story. So far not my favorite dystopian, but I'm excited about the "super hero" slant and I'm interested to see where it goes - that part definitely had me.