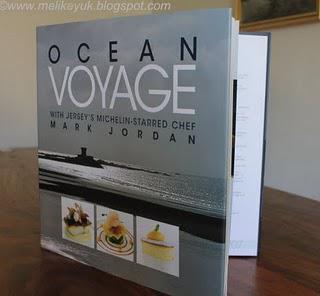 Ocean Voyage: A book of  gigantic proportions!
A couple of weeks ago, the book, Ocean Voyage arrived at the MeLikeyUK residence with an almighty crash, bang wallop! This book is big on creativity, imagery and ahem, size. It depicts, Michelin star chef Mark Jordan's journey at the Atlantic Hotel in Jersey and recounts his success, showcasing his signature dishes. It also pays a fitting tribute to his inspiration and mentors, including the renowned and much missed Keith Floyd.
Here are my thoughts on the book:
Pros:
Mark's passion for good quality local produce, his love for the island of Jersey and the strong rapport he has built with his suppliers emerges powerfully in the book.
The photography is out of this world. A long time can be spent pouring over the pictures of the food and the island of Jersey alone. Mark's accomplishments are exquisite; showing finesse, flair and attention to detail.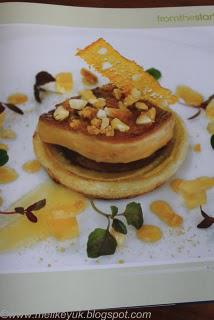 From the Start: Pan-Seared Foie Gras, Apple Tart  aux Fine, Salted Caramel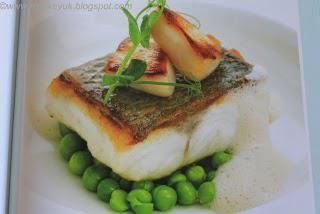 From the Ocean: Pan-Roast Sea Bass Fillet with
 Fresh Garden Peas and Seared Jersey Scallops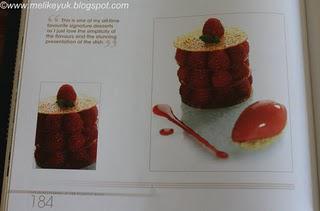 From the Desserts:Raspberry Nougatine,
Pistachio Cream, Raspberry Reduction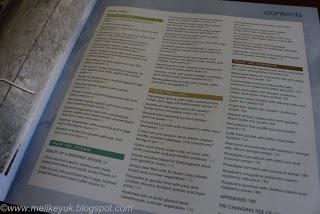 The Contents Section
The Contents section is very cleverly laid out in the form of a menu: "From the Start", "From the Ocean", "From the Land" and "From the Desserts".
It is the perfect book for aspiring chefs and those wishing to emulate the fine dining experience at home. This book lends itself to various techniques which will set expectations to a superior level.
The Appendixes/Appendices section includes a list of useful shorter recipes which are often referred to in the main section of the book. These range from Parmesan Foam to Veal Jus. Indeed, it was from this section I had today's lunch ; "Linguine with Home Made Pesto". Simple ingredients, but packs a powerful punch in the taste ratings.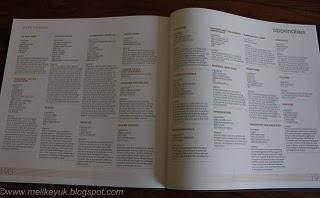 Appendixes/Appendices section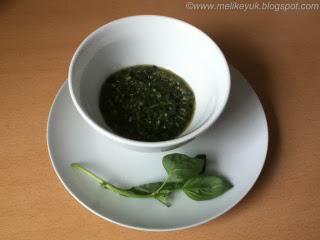 From the Appendixes/Appendices Section: Home Made Pesto
The book goes beyond Mark Jordan's cuisine, but acknowledges the luxurious Atlantic Hotel and Jersey as a food lovers paradise . Having never been to Jersey, I am much more appreciative of what the island has to offer.
Cons:
Practicality, accessibility and price of ingredients.
The dishes listed are very much akin to Michelin fine dining and they should be regarded in this light. The reproduction of some of these dishes could be rather intimidating to those amateur home cooks. Ingredients such as 3kg of lobster carcasses, Shimeji Mushrooms, Oscietra Caviar and Caper Berries would not be at everyone's fingertips. From a personal point of view, I would rather eat at the
Ocean restaurant
than spend money on top end ingredients where there is no guarantee they turn out as intended. However, this reflects my own ability to attempt Michelin style food at home, I am a lot better at eating it, than making it!
Complexity and time involved.
When I start a dish, I like to know how long it is going to take me from start to finish so that I can organise myself around it. To facilitate this, a section dedicated to time to prepare and cook the dish could be included. Some of the dishes themselves are very much "projects", referring to a series of different techniques to achieve some of the core ingredients.
It is a very minor point, I know, but the size means it does not fit on my bookshelf. Perhaps the photographs would have looked less stunning if the book had been smaller. Who knows?
I have really enjoyed leafing through this book, and while I am not quite brave enough to attempt some of the dishes, I have been moved by the beautiful creations and the passion that has been exhibited throughout. I have yet to visit the island of Jersey, but this book has given me plenty of incentive to go to the
Atlantic Hotel
and the Ocean restaurant to sample Mark Jordan's cuisine.
Overall MelikeyUK rating: 7.5/10
Ocean Voyage is available to purchase 
here
.
For more information on The Atlantic Hotel and Ocean Restaurant click here.
I would like to extend my thanks to The Dovetail Agency for sending me a 
copy of Ocean Voyage to review.