As this is my first foray into writing a book review I would really appreciate constructive comments, but remember I am a sensitive soul so nothing nasty please.  
Summersdale Publishers have kindly provided me with a second copy to give away.  So  please say if you would like a copy and I will draw a name out of a hat on Monday 19 September.  
I apologise in advance but due to postage costs, this offer is limited to the UK only.
************************************
When I received a request from Summersdale Publishers to review one of their books I was very flattered, it was the first time I had been approached to write a review on my blog.  I hope this will be the first of many.  The book, "Minding my Peas and Cucumbers" by Kay Sexton, arrived a few days later.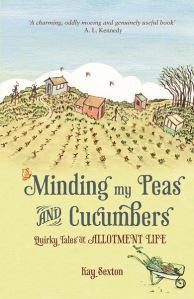 The front cover reads 
Quirky Tales of Allotment Life
 so I expected it to be a book you would give someone as an amusing, light-hearted present.  It was light reading and amusing, but I am not sure I would have labelled it 'quirky'.  I found it interesting and full of useful tips for anyone starting out as an Allotmenteer and it included recipes.
Kay Sexton has worked on various allotments for almost twenty years, starting out as a co-worker and tenant's manager.  Most of the book charts her learning curve on an allotment as a co-worker.  She nicknamed her plot "Nearly" because it wasn't quite hers.   There is a timeline that runs through the book, but also each chapter seems to stand on its own.   Some chapters are wry tales about the other allotment holders and I suspect anyone reading it will recognise the characters, there must be at least one of each type on most allotments.   Other chapters are packed full of ideas, such as how to make your own pots out of newspaper and container growing, which Kay admits can be seen as cheating, but gives you time to learn, think and plan in your first year.  There is also a functional list of items to take to an allotment, including a whistle, not something that would spring to my mind but at times when there are very few people around this sounds eminently sensible.
It is not and doesn't claim to be a high-brow, technical, book but Kay Sexton does write about practical matters such as planning your crops, ways to deal with gluts, allotment inspections and managing your Summer break.  It is cleverly interspersed with recipes, although Broccoli Hash and Lovage and Lentils are not ones I would try, Winter-Stored Apple and Frozen Blackberry Tarte Tatin sounds absolutely delicious.
I think the cover belies how useful "Minding my Peas and Cucumbers" would be for anyone who has aspirations of owning an allotment or is just starting out and should not be dismissed as a "jokey book".  I enjoyed reading it very much and although not an allotment holder I will refer to it often for my own garden.