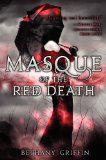 Masque of the Red Death by Bethany Giffin
Pages:
320, Hardcover
Grade:
8+ (drug use, sex, violence/horror)
Series:
Book #1 in Masque of the Red Death
Publisher:
Harper Collins
Source:
ARC from Harper Collins (thanks guys!)
Amazon
|
Goodreads
Description:
 Everything is in ruins.
A devastating plague has decimated the population. And those who are left live in fear of catching it as the city crumbles to pieces around them.
So what does Araby Worth have to live for?
Nights in the Debauchery Club, beautiful dresses, glittery make-up . . . and tantalizing ways to forget it all.
But in the depths of the club—in the depths of her own despair—Araby will find more than oblivion. She will find Will, the terribly handsome proprietor of the club. And Elliott, the wickedly smart aristocrat. Neither boy is what he seems. Both have secrets. Everyone does.
And Araby may find something not just to live for, but to fight for—no matter what it costs her.
Thoughts: 
There's lots of action in this book, lots of intrigue. Kidnapping, palace drama, death, plague, chases….what's not to love? Well, it does suffer from 1st book in a planned series syndrome (aka, cliffhanger and lots of unanswered questions).
I loved the setting, it was a little steampunk, a little post-apocalyptic dystopian, with just a hint of historical fiction. Very interesting setting - definitely one of the highlights of the book.
This book has some great love interest too. I loved Will. He is super sweet he in his private life (swoon!), but he still had kind of a bad boy/badass imagine - melt my heart (double-swoon). I'm also a sucker for the one everyone wants falling for the "shy" girl. Gah, love it! Elliot (love interest #2) grew on me. I found his arrogance a little immature and grating, but as his story was revealed and his feelings for Araby grew - he kind of grew on me too. Again - sucker for a reformed bad boy. I know, I'm a walking cliche'.
The love triangle: Oh, the dreaded love triangle. This one I might not hate - maybe, not sure yet. At first I was irate when I saw the hints of a love triangle starting. I HATE love triangles for the sake of love triangles, but this one developed naturally and since Araby hasn't really made up her mind about anyone yet and isn't pining over either one, I'm okay with it (for now). Also, her situation with Will is truly conflicting, unlike a lot of love triangles which is just hormones run amuck. I will reserve judgment on this topic until I read the next book.
Great start to a series. I'm a little bummed it wasn't a stand alone book. I really hate cliff-hangers in first books of a series. It feels insulting to the reader. Authors: just write a good enough book that I'll read the second book no matter what. Trust yourself and trust the reader. Don't force me to read the second book by cliff-hanging the ending. Unfinished business - fine. Big bad still out there - fine. Straight up life or death nothing is resolved cliff-hanger endings in a first book just piss me off.

Well worth the read, I'm looking forward to the next one in this series.