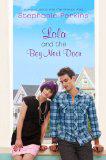 Lola and the Boy Next Door by Stephanie Perkins
Pages: 338
Grade: 8+ (it's pretty clean, there is some sex but it's only ever referred to)
Description: Budding designer Lola Nolan doesn't believe in fashion . . . she believes in costume. The more expressive the outfit -- more sparkly, more fun, more wild -- the better. But even though Lola's style is outrageous, she's a devoted daughter and friend with some big plans for the future. And everything is pretty perfect (right down to her hot rocker boyfriend) until the dreaded Bell twins, Calliope and Cricket, return to the neighborhood.
When Cricket -- a gifted inventor -- steps out from his twin sister's shadow and back into Lola's life, she must finally reconcile a lifetime of feelings for the boy next door.
Thoughts: Stephanie Perkins does it again with a sweet, funny, and realistic tale of first love.
Lola and Cricket are both very realistic characters, you can actually imagine them existing in real life, which is part of what makes their story so compelling. Lola's long harbored feelings for Cricket are true to life as is her desperation to get over them. First crushes and heartbreaks are the hardest and Stephanie Perkins depicts those emotions so well.
Fans of Anna won't be disappointed, though, Lola is a very different books. Anna built up way more sexual tension than Lola ever does. The tension between Cricket and Lola is entirely emotional - striking the perfect balance between years of friendship and those precious moments when it's teetering on something more. Both teens are struggling with family issues, neither totally sure how to handle them or what it means for their own futures. Their friendship is really at the heart of Lola and the romance is just an added bonus at the end. This is the perfect story for anyone who's ever fallen in love with their best friend.
I love Stephanie Perkins' writing and Lola was no exception. She's definitely an author worth getting excited about.


Read it in one sitting, which is kind of a big deal for me.