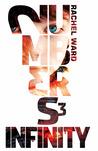 Infinity by Rachel Ward
My rating: 5 of 5 stars
This is the final book in Rachel Ward's Numbers series. In the first book, Numbers, Jem, a teenage girl, could see numbers when she looked into people's eyes. The numbers were actually dates; the dates people will die. Her gift or curse changed her life dramatically. There is a tragedy and many have died. The police finds some footage that shows two teenagers running away just before the incident and believe they may have something to do with what happened.
In the second book, The Chaos, Jem's son Adam inherited her ability to see numbers. Except that he could also see and feel how they will die -- their final moments. It nearly drives him mad. Sarah, a troubled teen has recurrent nightmares of a scarred demon stealing a baby she is carrying while being trapped in a fire. To make things more difficult, Sarah sees the demon in her new school. Adam, on the other hand, has problems too. So many people have the same numbers that it is almost impossible for him to leave it alone -- he knows he must do something. The two teens are drawn together by circumstances that change their lives in ways unimaginable.
With Infinity, Adam still has his ability though Sarah's nightmares have stopped. Together, they take little Mia, the baby in Sarah's previous nightmares, and Sarah's brothers and try to make a life for themselves after the chaos. They are a family of sorts. In one camp, they were invited to stay and, with the kids needing stability and Sarah pregnant, they accept the invite. However, they find that there are some people looking for Adam and those people are up to no good.
Infinity is a great way to end the Numbers series and, in my opinion, is the best among the books. The story is gripping. There are so many unexpected twists and turns that it is extremely difficult to figure out how the story ends without reading through each and every single page.
View all my reviews