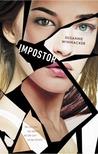 Impostor by Susanne Winnacker
My rating: 3 of 5 stars
Within the FBI, there is a secret branch that is referred to as the FEA (Forces with Extraordinary Abilities). The FEA is staffed with people who are known as Variants -- individuals with abilities. Among the Variants in training is a girl named Tessa. She possesses the ability to absorb another person's DNA and assume their appearance.
A serial killer is on the loose. Three people have been brutally murdered. A fourth, a girl named Madison, has been found barely alive and is in critical condition in a hospital. She is not expected to live. In order to find the killer, the FEA has decided that Tessa should become Madison once the real Madison dies. Tessa is to become the bait -- to lure the killer.
Tessa does not like the plan at all. She feels bad about deceiving Madison's family and friends. And she has never mimicked the appearance of anyone for a long amount of time before. The whole plan is stressful and deceitful. Especially when Tessa becomes Madison and goes home to live with such a loving family.
For the first time in her life, Tessa is able to feel what it is like to have a loving family, a good friend, and a little romance. Tessa begins to get too close to those in Madison's life. But she has to find the killer and he could be anyone. What is he is the man Madison was supposed to meet the day she was attacked? What if he is that boy with the weird eyes living nearby?
Impostor is a YA paranormal thriller made up of a mix of suspense and romance. The story is interesting and enjoyable enough. However, I do tend to wonder at why it is that being a Variant is supposed to be rare and Tess goes into a town with more than a few of them -- I mean, really? I couldn't really give it more than three stars.
View all my reviews