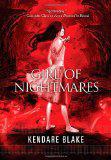 Girl of Nightmares by Kendare Blake
Pages:
332
Grade:
9+ (horror and violence)
Series:
Anna Dressed in Blood #2
Publisher:
Tor Teen
Source:
ARC via the lovely
Jennifer
, reviewer at Novel Thoughts
Amazon |
Goodreads
Description:
It's been months since the ghost of Anna Korlov opened a door to Hell in her basement and disappeared into it, but ghost-hunter Cas Lowood can't move on.
His friends remind him that Anna sacrificed herself so that Cas could live—not walk around half dead. He knows they're right, but in Cas's eyes, no living girl he meets can compare to the dead girl he fell in love with.
Now he's seeing Anna everywhere: sometimes when he's asleep and sometimes in waking nightmares. But something is very wrong...these aren't just daydreams. Anna seems tortured, torn apart in new and ever more gruesome ways every time she appears.
Cas doesn't know what happened to Anna when she disappeared into Hell, but he knows she doesn't deserve whatever is happening to her now. Anna saved Cas more than once, and it's time for him to return the favor.
Thoughts:
Oh, Cas! You're still one of my all time favorite MC's. He's just great. Snarky. Stree-smart. Funny. Loyal. And, oh yeah, bad-ass.
In Girl of Nightmares, Cas is being haunted by Anna. Despite numerous roadblocks, he's determined to get her out of whatever hell dimension she might be in. In his quest to figure out where Anna might be and how to get to her, he encounters plenty of baddies that keep the creep factor of Girl of Nightmares just as high as Anna Dressed in Blood was.
And just like in Anna, Cas is not alone. He's joined by his two best friends, Thomas and Carmel. Thomas and Cas's friendship is awesome in this story. I love how connected they are and how much they trust each other and care about each other. The strength of their friendship is one of the things that makes these two books really stellar. Carmel and Thomas have an interesting side story as well. It gives us a little more insight into both of their characters and ultimately was pretty funny and endearing.
I really loved that there's a larger idea/theme in Girl of Nightmares. Cas thinks Anna desrves to be in heaven, but a lot of people keep pointing out that it might not be his place to make that judgment call. Despite Anna's circumstances and Cas's love for her, she did kill a lot of people so who gets to judge what her punishment should be? Cas not only has to overcome physical blocks to Anna but also moral ones - which makes for a really interesting story.
Just like in Anna Dressed in Blood, Kendare Blake's storytelling is awesome. She wraps up the story nicely - I was surprised to find out this isn't a trilogy. Bottom line: Girl of Nightmare's is a great read - totally romantic, even though it's extra creepy. I mean, what's more romantic than a guy following his girl to hell to save her?