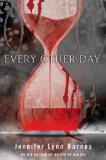 Every Other Day by Jennifer Lynn Barnes
Pages
: 336
Grade
: 9 + (graphic fantasy violence)
Series
: It's #1 in a new series (I think)
Publisher
: Egmont USA
Source
:
NetGalley
Amazon |
Goodreads
Description
: (from Goodreads) Every other day, Kali D'Angelo is a normal sixteen-year-old girl. She goes to public high school. She attends pep rallies. She's human.
And then every day in between . . .She's something else entirely.
Though she still looks like herself, every twenty-four hours predatory instincts take over and Kali becomes a feared demon-hunter with the undeniable urge to hunt, trap, and kill zombies, hellhounds, and other supernatural creatures. Kali has no idea why she is the way she is, but she gives in to instinct anyway. Even though the government considers it environmental terrorism.
When Kali notices a mark on the lower back of a popular girl at school, she knows instantly that the girl is marked for death by one of these creatures. Kali has twenty-four hours to save her and, unfortunately, she'll have to do it as a human. With the help of a few new friends, Kali takes a risk that her human body might not survive. . .and learns the secrets of her mysterious condition in the process.
Review
:
I'm on the fence about this one. It started out really interesting. I loved the idea of a world where mythological creates exist (though was a little put off to find out people still didn't believe in vampires or werewolves), that they're studied and even protected. I also liked Kali - she's a strong and fun main character (ala Buffy - though not as sarcastic). I was just as confused by her disappearing/reappearing abilities as she was, but I figured that's what the book was about - figuring out what Kali really was. There was plenty of action right away and lots of action to keep the reader going. (Warning: the action is graphically violent so this may not be the best pick for young or squeamish readers).
Pretty quickly things got really confusing and muddled. There are so many side characters (Skylar's brothers!) and I wasn't sure why some of them were even there - like Elliot; he was the voice of doubt, but really served no other purpose and Bethany served as enough of a reality check that he just wasn't necessary. All the side characters and multiple maybe-bad-guys (was Bethany's dad evil or not? I'm not sure even after the ending) just became confusing.
As we got into the heart of what Kali was things just got really crazy. There was double-cross after double-cross and the "twist" about her parents and who/what she is just didn't feel authentic to me.
Ultimately, this book was just "meh" for me. I like the premise and the main characters but the plot just went way off the reservation and got too murky and complicated. Too many characters and double-crosses. That kind of mystery/drama has to be really controlled and done exceptionally well for me to really enjoy it and this was a little sloppy and haphazard.

Lots of action, cool idea, but gets lost in all the double-crossing and extra people. It's worth noting that it's highly rated on Goodreads and Amazon, so I seem to be in the minority on not loving it.