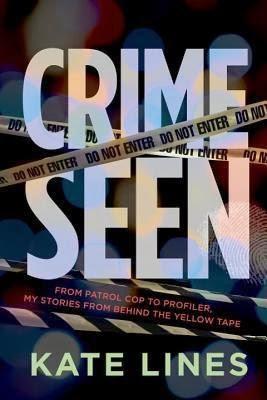 A criminal profiler, trained at Quantico, former Chief Superintendent of the Ontario Provincial Police (OPP) Kate Lines recounts her remarkable story using pivotal cases she worked on in the course of her career.
   How does a farm girl from Ennismore enter a male-dominated field and become a top criminal profiler and groundbreaking leader? For Kate Lines, it started humbly, patrolling highways. She learned quickly that the best way to thrive was to keep calm, carry on and never lose her sense of humor. In what would be the first of many dramatic turns in her career, Kate traded in her uniform for a tight miniskirt and a leather jacket, becoming one of the OPP's first female undercover officers.
   In 1990 came the opportunity of a lifetime: to be chosen as the 2nd-ever Canadian in an elite program at Quantico, Virginia in what was then the emerging field of criminal profiling. After 10 months of an intensive education in the intricacies of violent crime, Kate's new skills made her much in demand back home. Over the years she was involved in a number of high-profile cases, such as the abduction and murder of Kristen French and of Tori Stafford and the disappearance of Michael Dunahee.
   Kate was an early proponent of ViCLAS--the Violent Crime Linkage Analysis System, and when she took charge of the new and massive Behavioural Sciences division in Orillia, she took over ViCLAS and turned the department into a hub of innovation. Kate was awarded a Governor General's medal for being in the top 1/10th of 1% of the members of police forces that year. The following year the Canadian Police Leadership Foundation named her Police Leader of the Year.
   Always taking care not to aggrandize in any way the criminals whose names we may know all too well, Kate feels it's much more important to focus on the courage of victims and their families. Kate is an unsung, groundbreaking Canadian woman, one of a kind in this country, with a unique, inspiring and fascinating story to share
. -
Random House Canada Website
------
I'm a huge fan of the show
Criminal Minds
- an episodic show, now in its 10th season, that follows the cases of the FBI's elite profiling team, the BAU (Behavioural Analysis Unit). I was brought up on Agatha Christie, so I've pretty much always liked whodunits - the more involved and clever, the better. Shows like
Criminal Minds
,
The Mentalist
,
Sherlock
,
The Closer, Castle
and
Bones
are my favourites.
So when I saw this book, I knew I had to read it. Not only is it an insider's account of training for and working in behavioural profiling, but it's Canadian - a perspective I haven't experienced before.
Lines began her career pulling over traffic violators along stretches of the highway in Ontario, but soon moved into doing undercover work. She learned how to use her wits instead of a badge and weapon to infiltrate biker gangs and drug buys - a line of work that required the ability to read and manipulate people.
This training served her well when she decided to move into investigating violent crimes, and to train at Quantico to become a criminal profiler.
The training took nearly a year - much of which was spent in underground lecture halls and poring over crime scene photos of cold and current cases with detectives and law enforcement officers from all over the US and even further afield.
Criminal profiling is, to this day, a specialized skill that only few possess - particularly in Canada. When Lines completed her training and began working as a profiler with the Ontario Provincial Police (OPP), there was only one other trained profiler for her to work with. They would team up on particularly challenging cases, or work separately to see if their conclusions lined up. After working as a profiler and building up a reputation for knowing her stuff, Lines was asked to head up a BSS (Behavioural Science Section) within the OPP and help train other detectives in her methods.
Part memoir, part true crime, this book was easy to get into, and held my interest from beginning to end. Lines has clear passion and skill for her chosen area, and is justifiably proud of all she has accomplished in her career. Though I don't think it should matter (and hope that soon it won't), the fact that she is a woman who managed to excel in a male-dominated field is an impressive feat.
In addition to her own fascinating professional account, Lines included carefully-selected cases to present throughout the book that demonstrated both the need for and effectiveness of new techniques in profiling and in tracking crimes and criminals. That I'm Canadian, and therefore remember some of the cases she presents, added an extra layer of interest for me.
The only issue I had with this book was that it could have used some restructuring and line editing. There were a few times that stories were presented in an order or with wording that was confusing, and I had to go back and re-read a few times to figure out what was going on. This was notably worse towards the end of the book (I nearly gave up on the chapter "The Final Tribute"). Acronyms were also thrown in without explanation many times throughout the book, and I kept having to stop and Google them. These issues knocked off a star, but didn't ruin the book for me.
If you're a mystery buff like me (particularly if you're also Canadian) this is definitely a book you'll want to pick up.
Related Backlist Reads:
------
**Thanks to Random House Canada for providing a review copy of this book in exchange for an honest review!
**
Book Title:
Crime Seen
Author:
Kate Lines
Series:
No
Edition:
Hardback
Published By:
Random House Canada
Released:
April 7, 2015
Genre:
Memoir, True Crime
Pages:
256
Date Read:
April 6-11, 2015
Rating:
7/10
Buy the book:
Chapters
·
Book Depository
·
Amazon