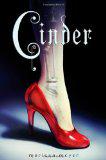 Cinder by Marissa Meyer
Pages: 387
Grade: 7+
Series: Book 1 Lunar Chronicles
Publisher: Feiwel and Friends
Source: Borrowed from the library
Description: Humans and androids crowd the raucous streets of New Beijing. A deadly plague ravages the population. From space, a ruthless lunar people watch, waiting to make their move. No one knows that Earth's fate hinges on one girl... Cinder, a gifted mechanic, is a cyborg. She's a second-class citizen with a mysterious past, reviled by her stepmother and blamed for her stepsister's illness. But when her life becomes intertwined with the handsome Prince Kai's, she suddenly finds herself at the center of an intergalactic struggle, and a forbidden attraction. Caught between duty and freedom, loyalty and betrayal, she must uncover secrets about her past in order to protect her world's future.
One Sentence Review: Cute but predictable.
What I liked:
Prince Kai: He wasn't your typical Prince Charming. There was real passion and depth to his character. I loved that he was so willing to sacrifice himself and his happiness for his country. He's way more than a pretty face and a title.
The Setting: I love the sci-fi twist on the classic Cinderella tale. I also liked the addition of the Lunar People and the possability of a missing princess and royal intrigue. It takes this classic tale up a notch and makes it that much more fun to read.
What I didn't like:
Cinder as a cyborg: I wasn't totally sure why that was chosen over some other kind of differential. Being a cyborg was just a vehicle for bigotry, but so was being Lunar - so I'm not sure what the point really was other than to make it a science-fiction book.
It was super predictable: (spoiler alert) From the minute we heard the tale of the "missing" princess it was pretty obvious what/who Cinder was. But, it's Cinderella after all - it's not like we didn't know she was going to eventually become a princess in some fashion or another.
I'm on the fence continuing this series. It was fun and I didn't hate it, but wasn't totally crazy about it either. As a stand-alone book I probably would have loved it, but as the start to a series...I just don't think I'm ready to commit.