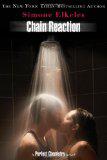 Chain Reaction (Perfect Chemistry Novels) by Simone Elkeles
Pages: 308
Grade: 10 + (all of her books are pretty mature - sexual content, language and gang violence)
Description: Luis Fuentes has always been sheltered from the gang violence that nearly destroyed his brothers' lives. But that didn't stop him from taking risks—whether he's scaling a mountain in the Rockies or dreaming of a future as an astronaut, Luis can't stop looking for the next thrill.
Nikki Cruz lives her life by three rules—boys lie to get their way, don't trust a boy who says "I love you," and never date a boy from the south side of Fairfield. Her parents may be from Mexico, but as a doctor's daughter, she has more in common with her north-side neighbors than the Latino Blood at her school. Then she meets Luis at Alex's wedding, and suddenly, she's tempted to break all her rules.
Getting Nikki to take a chance on a southsider is Luis's biggest challenge, until he finds himself targeted by Chuy Soto, the new head of the Latino Blood. When Chuy reveals a disturbing secret about Luis's family, the youngest Fuentes finds himself questioning everything he's ever believed to be true. Will his feelings for Nikki be enough to stop Luis from entering a dark and violent world and permanently living on the edge?
Thoughts: I want to preface this with saying I am a huge fan of Simone Elkeles. I've raved about Perfect Chemistry, Rules of Attraction, and Leaving Paradise (I never posted by review of Return to Paradise, but I loved that one too). However, Chain Reaction did nothing for me. I'm so disappointed. Everything from the cover (oh man it's just awful), to Luis, to Niki just flat out turned me off. And the big twist? I literally smacked my forehead and groaned. No way.
I started out loving Luis. I was so excited to be hanging with the youngest Fuentes, because let's face it, they are the yummiest trio of brothers in literary existence. Even when he was being a cocky asshole, I still loved him. However, his character took a very weird turn for me as soon as they moved back to Illinois. No way would he have gone along with any of the gang BS. And no way would a smart kid like that not have gone to his older brothers for help.
While we're on the subject of Illinois I have a very hard time believing that Mama Fuentes would have moved back when she did. Luis had one year left and Alex and Britney didn't need help raising their kiddo. She was a smart level headed lady. She would have made sure Luis got into college before moving home. She never would have risked bring him back into potential gang violence - especially knowing

(spoiler alert)

that he was blessed in because of who is father was. Also, unless she was raped, there's no way that Luis's dad was the man that killed her husband. No way.

(spoiler over)


Niki didn't impress me much either. She had a lot of attitude for not a lot of reason. I never really felt a connection to her character. I didn't really care about the emotional roller coaster she went through with her gang member boyfriend. She felt fake to me, riding on her looks and I didn't really understand why Luis liked her much in the first place. Their love story did nothing for me. I was way more interested in Luis's battle with Latino Blood than his relationship with Niki, which was a major departure from the previous two novels where the stakes were always the girl.
It was great to see everyone else back. I have a very found spot in my heart for the elder Fuentes boys and their gal pals. It was awesome to have them in and out throughout the book. I love how important family is to this group of people and how much they celebrate their heritage. That's one thing Chain Reaction got right - it's definitely a celebration of family and heritage.
This was a really disappointing end to an AMAZING trilogy. I loved the first two books so much that I was crushed to not love this one, but it really didn't do anything for me. I do seem to be in the minority in my opinion though, so if you've read the other ones, you should definitely pick this one up too.


Totally disappointed in this book. Loved the first two books though.