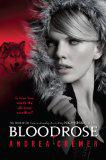 Bloodrose
(Nightshade #3) by Andrea Cremer
Pages
: (a lot) 416
Grade
: 9+ (violence and sexual content)
Source
: Borrowed from the library
Publisher
: Philomel
Amazon
|
Goodreads
Description
: (from Goodreads) Calla has always welcomed war.
But now that the final battle is upon her, there's more at stake than fighting. There's saving Ren, even if it incurs Shay's wrath. There's keeping Ansel safe, even if he's been branded a traitor. There's proving herself as the pack's alpha, facing unnamanble horrors, and ridding the world of the Keepers' magic once and for all. And then there's deciding what to do when the war ends. If Calla makes it out alive, that is
Thoughts
: I was pretty excited to finish up this series; I really enjoyed Nightshade, and though Wolfsbane wasn't as strong of a book in my opinion, I enjoyed it too. I was ready to love this one. And I did. Kind of.
Right away I was pissed at Calla again. I forgot how much her wishy-washy Ren/Shay nonsense grated on my nerves in Wolfsbane and it was front and center within the first 10 pages of Bloodrose. I spent the first part of the book just thinking nasty thoughts about Calla, which totally bums me out because in Nightshade she had won a place in my heart as one of my all time favorite protagonists. I loved her.
Despite Calla's behavior, I still really enjoyed Bloodrose. The world building in this series was phenomenal - the rich history, the complex layers of plot woven together over years of story lines. I loved how the past and the present blended together so effortlessly. It's really brilliant. I also love the world of the Searchers - their stories, their gifts, their relationships - it's all so wonderful to be a part of - I really hope that we get a spinoff series featuring them.
That said, the love triangle spoiled this book for me (a little). I felt like it was a) unnecessary and b) obnoxious. I'm not automatically opposed to love triangles, but in this book it just downright made me angry.
THE LOVE TRIANGLE RANT
(this part is a little spoiler-y)
:
I really liked the love triangel in the first book, I raved about it! It made sense. Calla's been betrothed to Ren her whole life - he's all she's ever known. He's hot and fun to be around. She's attracted to him, but her feelings are more than a little hurt by his attitude towards her (and the line of skanks he's hooked up with and paraded in front of her) so when another hot guy shows up and shows some interest, she falls hard, but feels guilty. Okay - that made sense. But the minute she busted up her wedding and ran away with Shay - she made her choice. And she tripple confirmed that choice the second she slept with Shay in Wolfsbane.
Yeah, okay, feeling a connection to Ren is natural. Feeling guilty for dumping his ass is natural. Having some doubts about the choice you made, again, natural, but stringing along your new boyfriend for weeks on end is just ridiculous. Sneaking into Shay's bedroom for a quickie and two days latter trying to underess Ren in the shower because Shay "might be" changing and "maybe" doesn't have as much time for you is just insecure and selfish (and kind of slutty). It would be one thing to get pissed at Shay, dump his ass and then hook up with Ren later. It's another thing to wake up sad because Shay didn't sneak into your bedroom and then go try to jump Ren. What the hell? Where was the strong level headed Calla I loved? The one who wasn't going to let anyone make decisions for her? The one who knew her heart and followed it?
Seriously. this love triangle is the worst kind of love triangle. Maybe I just don't get the whole alpha thing, but seriously, I wanted them both to dump her. I was a little bitter when she didn't actually have to choose in the end. Yeah, okay, she suffered and that stinks, but it kind of felt like taking the easy way out. I sort of wish Shay had remained a human or been sucked into hell, it would have been a much more poetic ending.
Side note: Could her head get any bigger? Neither of those boys was gonna leave the cause if she chose the other one. Hello! Shay is the Scion - can't really leave the cause and where the hell was Ren going to go? His family and pack were gone and the only place he could go back to involved a man he hated.
END RANT
That being said, it was well written and compelling - just look at the emotional rise Andrea Cremer got out of me. I just thought Calla was annoying and if she had been my friend/sister/pack mate I wouldn't have had any sympathy for her and probably would have told her off or tried to sleep with one of her precious boyfriends just to prove a point. 
Bottom line: this is a great series. The world building is phenomenal. The action is awesome and they're just fun books to read.

There was plenty of action in Bloodrose and it was a fast and furious read. I highly 
recommend
 this series to paranormal fans - it really is awesome.