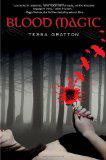 Blood Magic (The Blood Journals) by Tessa Gratton
Pages: 405
Grade: 9+ (It's pretty gory)
Description: It starts off simply.
Draw a circle ... place a dead leaf in the center ... sprinkle some salt ... recite a little Latin ... add a drop of blood ...
Maybe that last part isn't exactly simple. Yet somehow it feels right to Silla Kennicott. And nothing in her life has felt remotely right since her parents' horrific deaths. She's willing to do anything to uncover the truth about her family—even try a few spells from the mysterious book that arrived on her doorstep ... and spill some blood.
The book isn't the only recent arrival in Silla's life. There's Nick Pardee, the new guy next door who may have seen Silla casting a spell. She's not sure what he saw and is afraid to find out. But as they spend more time together, Silla realizes this may not be Nick's first encounter with Blood Magic. Brought together by a combination of fate and chemistry, Silla and Nick can't deny their attraction. And they can't ignore the dark presence lurking nearby—waiting to reclaim the book and all its power.
Thoughts: First of all, can we talk about how pretty the cover is? It's beautiful and haunting. I would have picked this book up even if it people hadn't told me to.
I loved how simple this story was. Even though the back story was a bit complex and there was some major identity theft happening (hello body snatchers), the stakes were very real and very immediate. There was no end-of-the-world drama happening. Blood Magic is a good old-fashioned psycho killer novel, with just a dash of magic thrown in for good measure.
Beneath the run-for-your-life suspense is a beautiful and real love story. It starts with a boy having a crush on a girl. There may be a bit of destiny involved, but mostly it's straight up chemistry. It wasn't insta-love (thank God!) but it did happen fast. Nick and Silla have something very powerful in common that draws them together and it totally made sense that they would bond quickly. Their love story felt both natural and transcendental, it was (ahem) magical.
I loved the rotating narration - not all authors can pull this off, but Tessa Gratton did just fine. All of the characters had great voices, but Nick was by far my favorite. I spent a good portion of the book laughing at Nick's inner dialog - he's very witty, in a dark snarky kind of way, but still a really good guy.
Be forewarned though, this book is gory. I really think books with bunny sacrifices should come with warning labels for those of us that get a little squeamish at such things.


Refreshing change of pace in the YA paranormal genre. And bonus - it's a stand alone!
Part of the 2011 Debut Author Challenge hosted by The Story Siren