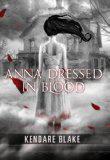 Anna Dressed in Blood
by Kendare Blake
Pages
: 316
Grade
: 9+ (scenes of violence and horror)
Publisher
:
Tor Teen
Source
: borrowed from the library
Challenge
: 2012 TBR Challenge
Amazon
|
Goodreads
Description
: (from Goodreads) Cas Lowood has inherited an unusual vocation: He kills the dead.
So did his father before him, until his gruesome murder by a ghost he sought to kill. Now, armed with his father's mysterious and deadly athame, Cas travels the country with his kitchen-witch mother and their spirit-sniffing cat. Together they follow legends and local lore, trying to keep up with the murderous dead—keeping pesky things like the future and friends at bay.
When they arrive in a new town in search of a ghost the locals call Anna Dressed in Blood, Cas doesn't expect anything outside of the ordinary: move, hunt, kill. What he finds instead is a girl entangled in curses and rage, a ghost like he's never faced before. She still wears the dress she wore on the day of her brutal murder in 1958: once white, but now stained red and dripping blood. Since her death, Anna has killed any and every person who has dared to step into the deserted Victorian she used to call home.
And she, for whatever reason, spares his life.
Thoughts
: This one creeped me out in a big way!
I love horror stories and anything that goes bump in the night, the creepier the better and Anna did not disappoint.
I was slightly surprised (in a good way) to discover that the main character was male, that doesn't happen too often in YA paranormal - especially the kind with romantic undertones. Cas is a my favorite kind of protagonist - smart, loyal, and funny. He starts out as a loner, but quickly develops his own Scooby Gang (there are more than a few Buffy reference peppered throughout Anna). I liked that Cas picked up a variety of friends and didn't just automatically fall in with only outcasts. There were lots of stereotypes in this novel, but none of them were cardboard cutouts, each character had layers and personalities. I also liked that Cas's mom knew what he did. It always bothers me when the young hero hides what they are from their parents, especially when they seem to be decent parents. It's just too far fetched to think that decent parents wouldn't catch on so it was a big relief that Cas wasn't in hiding from his mom.
Anna's story is both haunting and compelling. She is both terrifying and sympathetic at the same time. Even when she's being super creepy and evil, there's something about her that feels very innocent. I have to tell you that the scenes with Anna really freaked me out. They get bloody and messy. I actually refrained from reading this book while I was home alone at night. Total creep out factor.
While the romance does play a big part in this book, I would say it's a stretch to call it a paranormal romance. The draw between her and Cas is realistic and interesting and thank God, it isn't insta-love, even tough there's definitely an instant connection between them.
The twist in this book came out of nowhere and I'm still not 100% sure what happened, but I don't really care. Anna was well written and fast paced with a lot of great twists and turns. I will definitely read more in this series.

Creepy and romantic.