Hello my lovelys, how are you all on this fine day. I must say i'm pretty bored of the weather that we have going on in England at the minute sun, rain, snow, thunder and lightening - we cant win and are constantly having you change what we are going to wear, im rather quite sick of it now. Can we have summer yet?.
Ive never really been a summer bean i have always loved winter but after this one i honestly just cant be bothered with it. I keep remember the two week of hot weather i mean really hot where i got burnt from literally just been out in it for 5 minutes!. I think we all need abit of that weather back. And boohoo has made me want it to come even quicker!.
Basically i in general love there site, there trends are always on top, constantly getting in new stock and items, there delivery is always speedy and fast and they do some really good offers and deals i honestly cant fault them one bit!.
I am ordering which must be at least 3 times a month a couple of things at a time and this time around i thought i would give a pair of there shorts a try and a few other things. I always find it hard to get a good pair of shorts that actually fit me and look good. I'm not afraid to say i hardly have an ass, yeah i said it. And also i have a pair of short stumpy legs (5'2) to me there the worst part of my body but hey life goes on i cant change it really. I found these marissa high cut distressed denim hotpants they are a perfect fit and in a size 6 which is hard to find in certain shops/sites.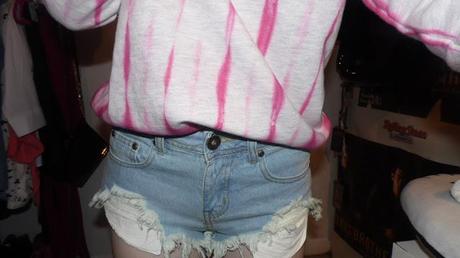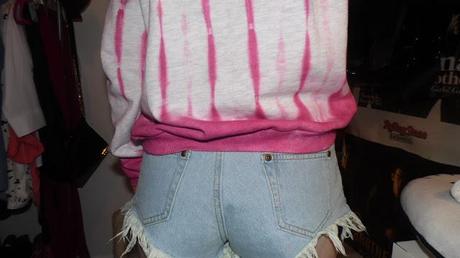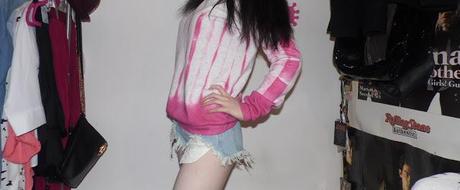 I'm very pale and that wont even change in summer, i don't tan at all so i permanently rock the pale look.
The jumper is also from Boohoo i fell in love with it! Isabella Tie Dye Ombre Sweater
a few other things i have picked up and loved - Sally Like Me, Tweet Me Loopback Sweater , Amanda Bowler Hat , Melanie Western Style Ankle Boots , Tasha Button Front High Waist Disco Pants