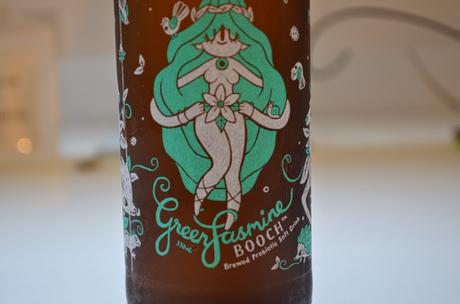 Oh look, another beverage post. Can you see a theme developing here? Today, I want to share with you this awesome drink I discovered - BOOCH. Kombucha is nothing new but I smirk every time I hear that line in
Silk Pillow
by Childish Gambino ft. Beck. The Genius annotation says it all:
Kombucha is a modern sweetened, fermented tea that hipster girls usually drink. 
If you can't get past the wanky hipsterness associated with Kombucha or the smell, you will love what the Goodbuzz Brewing Co has to offer with their BOOCH range. Less health drink, more like cider with benefits. It comes in the following flavours: Green Jasmine, Feijoa, Lemon Ginger, Jade Dew and Origins. The art on their bottles is friggin' adorbs! I love the story behind Goodbuzz too and you can read about them
here
.
For Kombucha first timers, let me quickly tell you about my experience with this drink. It's great for when I feel like I need a clean start, say after a road trip where 90% of the meals are fried and out of a brown paper bag with a picture of that pig-tailed freckly redhead or Jabies Doner Kebab from
Bulls
. Just remember that it's a probiotic drink so there will be floaty jelly surprises (the good kind) and can contain 1% alcohol from the fermentation process. In short, kombucha is great for detoxing. Your tummy will love you for drinking it.
Have you tried BOOCH? Are you a fan of Kombucha? Have you tried growing the cultures yourself?? Oh my gosh, talk to me on Twitter or comment below if you have.