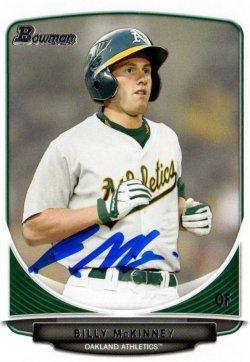 The Oakland A's took Billy McKinney with the 24th overall pick in the 2013 draft making the then–18 year old an instant millionaire. Billy is now 19 and playing for the class A Stockton Ports in beautiful Stockton, California. (that was tongue in cheek…Stockton has one of the highest unemployment and crime rates in the state of California. Read: dump.)
I recently took the time to send an interview to Billy expecting Annie Savoy and what I got back was Crash Davis:
I've always had a strange obsession with the minor leagues. Can you tell us a bit about it?
The bus rides are a grind for sure. Feel long.
How is the pitching different in the Cal League than in high school?
Pitchers are more consistent and have better "stuff."
Do you enjoy California?
Cali is very nice, great weather.
In the end I am glad the young man took the time to answer my request and even send me an autograph. Mr. McKinney has a supporter here at the 'Fro, and we will be keeping a watchful eye on his progression throughout his minor league career.