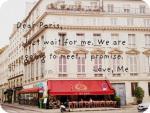 We'll always have Paris -gateway to France's wine regions.
" data-orig-size="600,450" data-image-title="dearparis" data-orig-file="http://binnotes.files.wordpress.com/2012/04/dearparis.jpg" data-liked="0" aperture="aperture" /> Bonjour dear readers! While binNotes acclimates from the ice and fire of Iceland to the romance of Paris, enjoy my two fave blogs from the City of Lights:
Becoming Madame: Learn all things Francophile from an ex-Pat attorney turned Parisian, who found love, mastered a new language, and forged a new career helping others navigate the world's most intriguing city.
Wine Terroirs The best insider guide yet to French wine bars, wine makers, and wine terroirs revealed through the eyes of a world-class Parisian photographer. Sante!
Copyrighted 2013. All Rights Reserved.
Filed under: France, French Wine, French Wineries, Paris, Travel, wine bar, Wine Tasting Tagged: becoming madame, french wine makers, french wine terroirs, Paris, paris wine bars, wine bars, wine terroirs