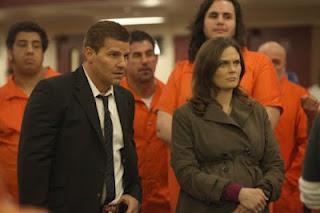 Original Air Date: 2 April 2012
Storyline: 
Booth is not happy when Brennan, in her advanced state of pregnancy, decides she is the only scientist who can solve the mystery of a prisoner's corpse found miles from the prison in the sewer system. Unfortunately, her determination to work as usual puts them in danger and results in a surprise arrival in a location only Brennan can appreciate.
Best Quote:

Booth

: You have to learn how to compromise.




Brennan

: I can compromise. I'm willing to let you have our daughter baptized.




Booth

: Really?




Brennan

: Mm-hmm. Children need mythology. It helps them make sense of the world.




Booth

: My religion is not a myth.




Brennan

: I'm an author, Booth. I understand how narrative works, and so does your Bible. A pregnant woman is about to give birth. She finds an inn, but they won't let her stay there, so she is forced to give birth in a barn. Whoever wrote that, really knew how to manipulate an audience.




Booth

: Well, it happened.




Brennan

: Fine. You can baptize our daughter and I will make sure that she is born at home, perfect compromise.