For those of you that follow me regularly, you know my love of amazing cosmetics that support good causes. Bondi New York just happens to be a newer company that fits that exact profile and they were lovely enough to allow me to choose one polish for review. I chose "The Limelight" because green is my favorite color (which I'm sure you've picked up on if you've followed me for a while) and I find bright colors like this the most challenging to create with decent formulas. A true test to any company's formula in my opinion! Here's a quick blurb from the company's site that describes them in a nutshell:
Launched in 2013, Bondi New York is a collection of twenty fashion forward colors that are five free (formaldehyde, formaldehyde resin, camphor, toluene and DBP). Based out of New York, our brand is American made with all of the net profits going to our non-profit foundation which supports a wide variety of charitable causes throughout the United States.
Bondi New York "The Limelight" Nail Polish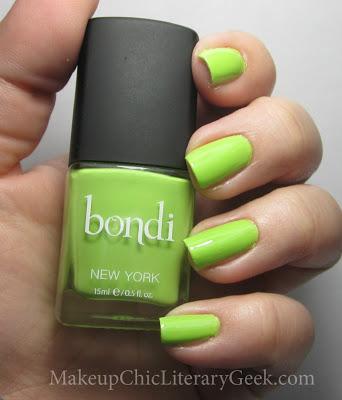 2 coats Bondi New York "The Limelight"
Color:
This is a super vibrant, bright lime green. It actually skews a tad more subdued in my picture than it is in person. It's also a tad more yellow-toned in person than I could catch in my pictures! It's so bright it's almost neon.
Application/Opacity:
I am notoriously picky when it comes to my cosmetics, but I have to say this is one of, if not
the
, best bright green I have ever swatched in my long beauty-obsessed existence. Typically I find that colors like this are a combination of streaky, sheer, or just generally difficult to work with. This was amazing. When applying it, it almost felt light enough on the brush to be thin formula-wise, but the formula was actually perfect (not thin at all) and very easy to manipulate. This wasn't super tacky or lumpy--extremely self-leveling. The first coat went on well over a base and the second coat left my mani smooth and fully opaque. The finish is very shiny and it dried at a typical rate. It's impressive, especially for a color like this! I'd also like to point out that I love the packaging. The bottle feels nice and solid and the rubber-ish cap feels good in your hand.
Price:
This is priced at $15 retail. Remember, all net profits to towards Bondi New York's non-profit foundations that support multiple charitable efforts.
Where to Buy:
Bondi New York polishes can be purchased directly on the company's site
HERE
.
Final Thoughts:
As I'm sure you can already tell, I'm incredibly in love with this color and formula. This is absolutely a polish I will be reaching for repeatedly this spring/summer. It's as close to lime-polish perfection as polish can get and I don't say that lightly!
I also love that it's 5-free as I refrain from using anything short of 3-free. Definitely snatch this up now if you like it. Now I'm dying to see how "Chasing the Sun" (bright orange), "Brick Road" (bright yellow) and some of their other bright colors perform!
I was amused to find that my beauty blogger buddy Cosmetic Sanctuary had been given the same opportunity and without knowing, we chose the same polish! You can see her swatches of "The Limelight" HERE.
What do you think? Will you be getting this or any other polishes from Bondi New York?

Note: This polish was provided by Bondi New York for review. All opinions above are my own based on my personal experience. For more in-depth information on Bondi New York please refer to their website or contact them directly.