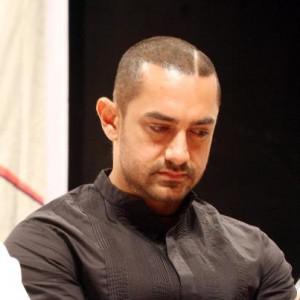 Bollywood actor Aamir Khan set to head off for Hajj
Bollywood actor Aamir Khan is set to head off for Hajj, along with his mother Zeenat Hussain, on Oct. 19, following his return from Chicago after wrapping up the shoot of Dhoom 3.
The actor had asked his mother if he could get him a gift, and she expressed the desire to go to perform Hajj. The submissive son promised that he will make the trip to Mecca with her.
"Well… for a number of years, Ammi has been wanting to go for Hajj. And of course, I have often thought about it. But when Ammi said a couple of times kay hum ko jaana hai, I said chaliye hum aap ko lay chalte hain, hamara bhee Hajj ho jayega," Aamir Khan told in his recent interview.
Aamir Khan has been taking special care of his mother since the demise of his father in 2010. A couple of years ago he had bought a new house for her in Mumbai near his place and he spends more time in his mom's home than he does in his own.
Since for a woman to go for Hajj, she is supposed to be accompanied either by her husband, father, brother, or son; any of the four.
"In Ammi's case, her father is no more, her husband is no more, and she doesn't have any brothers. So either my brother Faisal or I have to accompany her, and I am happy to be that person, because it gives me the opportunity to do Hajj as well," he further explained.
After returning from Hajj, Aamir Khan will start promotions for his upcoming movie, Talaash, with a music-launch event.
There is also news that the members of Pakistan's Tablighi Jamaat are trying to arrange meeting of Aamir Khan with famous Islamic scholar Maulana Tariq Jameel so that he may head preaching of religion in India.