YAY HAUL! It's been ages since my last haul post, but then I guess it's been a while since I bought anything worth sharing… I'm sure no one cares about my grocery orders! The Body Shop have had some crazy ass bargains and sales lately, so I thought I'd better take advantage. I'd have spent a lot more if my bank would have allowed it. I was in store the other day and they had the massive bottles of body butter on sale for £12! Now that's crazy.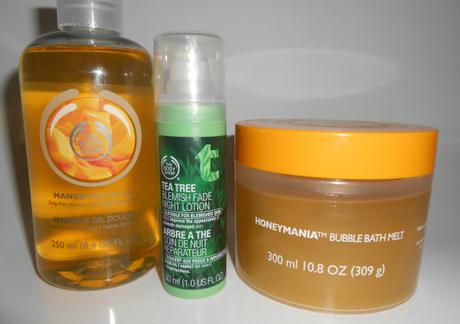 Honey Mania Bubble Bath Melt
As I said, my funds were limited but I couldn't let the offer of 40% off just wander past unused. We've been in the new flat for almost two months now and whilst I've been enjoying finally having a bath tub I don't really have anything 'interesting' to put in it.
I spotted this 'bath melt' and thought I'd give it a go seeing as I was getting a hefty discount… I'm not overly impressed. It doesn't smell like honey and I get better bubbles from my £1 Radox bath cream!
Tea Tree Blemish Fade Night Lotion
I haven't used this enough to tell you what I really think of it, but I have used a few of the Body Shop's other tea tree products and have been impressed so I figured I couldn't go wrong with this. I love the tea tree range – it makes my face smell nice as well as combating my face demons!
Mango Shower Gel
This was actually a freebie that you were given if you spent £10 or more. I wasn't too bothered as I assumed it would be one of those tiny travel sizes that would get lost in a cupboard but as I spent a few pence over £10 they sent it out, and it's way bigger than expected! It's one size down from the biggest bottle and it smells amazing. I don't think I've ever had a shower gel that has a scent as strong as this – and it really does smell like mangos too!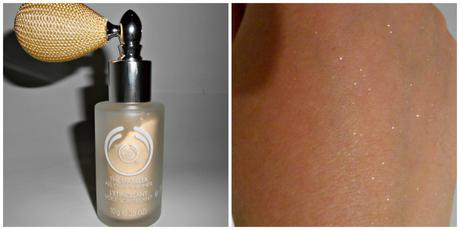 The Sparkler in Vanilla/Gold
I spied this when I was having a browse in store and fell in love straight away. I've never seen this online so wasn't quite sure what it was at first, but one spritz and I ran to the tills. It's basically just glitter in a nice bottle, but it looks so nice on the skin. It does rub off easily so it's not too great for the arms and legs, but it looks great if you spray it onto your chest and collarbones. You can buy these individually but I got the double pack and split it with my Mum. In the pack you got the gold shimmer and a pink shimmer for £16 which I thought was a little pricey; but that was on sale from £32!

I don't know what it is about the Body Shop, but I've really been into their products lately. I used to be all about that Lush life, but I think you get more for your money with Body Shop.
If you have the Honey Mania Bath Melt please let me know if you think it smells of honey – I'm really disappointed with it! I was expecting a nice sweet smell but instead got a big whiff off… well, I'm not even sure! I'm off to spray so much shimmer I look like something out of Twilight now ;)