The week of 6th – 12th January saw Body Confidence Week 2014 which was created by Alybongo. Instagram, Twitter, and Tumblr all saw the hashtag #BodyConfidenceWeek2014, each day had a different theme, and all you needed to do to join in was post a photo which fit the theme. You didn't need to be a blogger to take part, it wasn't created just for one community to be a part of.
I really enjoyed taking part, and it was so lovely to see people come together, it didn't matter who you were Body Confidence Week 2014 was a place for you. People were swapping comments on Instagram photos, I think we most likely all went through the tag on Instagram and were liking each others photos. I know I loved checking it out a couple of times a day. One thing Body Confidence Week 2014 has done is unite us because we are all the same, we all have insecurities and often they're ones that no one else notices as Wednesday showed.
Anyway I wanted to share with you the themes for each day, and also the photos which I posted on Instagram, Twitter, and Tumblr.
Monday – "You are amazing, just the way you are"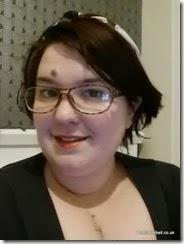 This was me after work on Monday, I grabbed a photo when I got in.
Tuesday – Post your favorite picture of yourself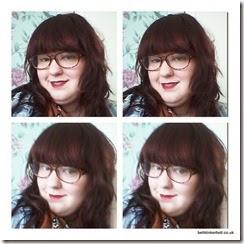 I recently found these photos on my phone, and I love them because they just remind me of how cute I can look.
Wednesday – Take a picture of the part of your body you are least confident with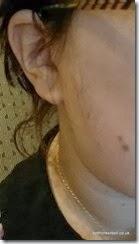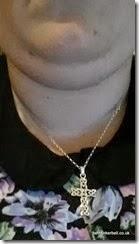 I took these two photos because the 2 parts of my body i'm least confident with are my hirsutism, and my double chins. I see so many people with cute double chins, but I have ended up with ugly ones.
Thursday – Take a picture in public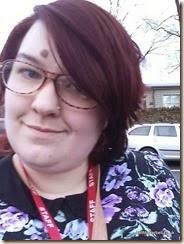 I took this in the car park at work as I was leaving on Thursday, I somehow managed to leave at a time when a lot of students were in the car park. I probably got an odd look or two, but I did it!
Friday – Casual Fridays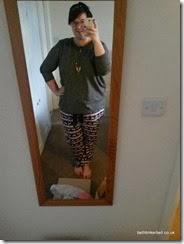 My Friday outfit was one which was super comfy, I spent the day writing blogposts and filming a couple of videos for YouTube. I find being comfy an essential when I'm taking a day out to do blogging and filming.
Saturday – Take a picture in your favorite outfit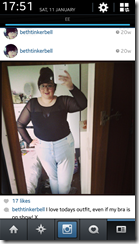 I reposted an old Instagram photo as my favorite outfit. It isn't actually my favorite outfit, I just don't have a picture of my favorite outfit, which I am surprised about. However, this is an outfit which I loved when I wore it, it made me feel super confident, and I now need to wear this again!
Sunday – Take a picture when you just wake up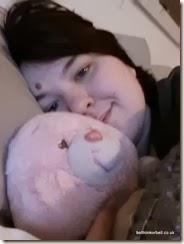 Half 8 Sunday morning, me and Love-A-Lot are just about awake!
If you took part then I hope you enjoyed it as much as I did. I would love to see this become a yearly week which we all enjoy and take part in. The new year sees lots of people making resolutions about how they are going to change, and I think the most important change everyone should make is to try and be a little more positive about themselves!
I want to be as positive as I can throughout 2014!
Tink x