I have been on the lookout for a good range of different eyeshadows encased in a nice box for a while now at an affordable price.  So when I saw the Body Collection Professional Beauty Case with cosmetics on the
My chemist Direct
website, I instantly wanted to try it.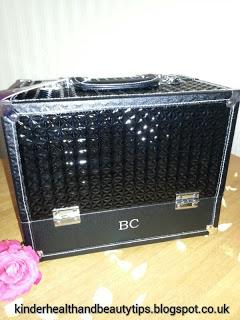 Comprising of everything you need to achieve a variety of makeup looks (except foundation, face powder and mascara) this makes an excellent choice for someone new to makeup.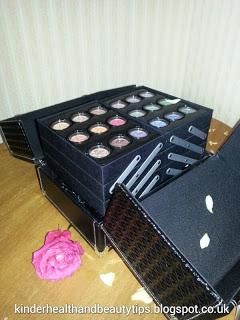 This professional beauty case comes complete with:
54 eyeshadows
4 blushers/bronzers
4 lipsticks
4 lip glosses
4 nail varnishes
Eyeliner pencil in black
Lip liner pencil in red
Toe divider
Nail buffer
Pair of nail clippers
Pair of tweezers
Pair of nail scissors
Cuticle pusher
Blusher brush
Foam applicator
Eyelash and brow comb
Shading/blending brush
Lip brush
Priced at
£29.99
I think this is really good value for money!  You could spend a whole lot more just on the eyeshadows alone!  Just think of your typical drugstore eyeshadows.  I spent £8.99 yesterday on an eyeshadow quad by Revlon.  And in this kit you get 54 (!) eyeshadows!
Not only that, but you are getting a whole range of products from wearable shades of lipsticks and glosses to nail varnish, as well as a few manicure products!  I don't know about you, but I just LOVE a good bargain! :-)
Also, I love it when all the shades are wearable and you haven't got any strange shades.  Even the orange and pink eyeshadows I would wear as they are in a nice soft, wearable tone.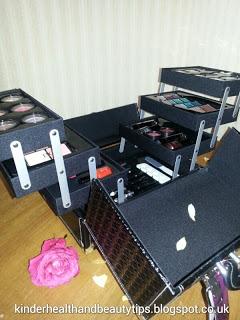 The icing on this brilliant cake, is the beauty carry case all these products come encased in.  A large 30 x 15 cms by 20 cms high.  It opens up to reveal 3 tiers either side, which open up to reveal a bottom area.  The storage space is AMAZING.
I really can't wait to use these products to create different makeup looks, the possibilities are endless!
This Professional Beauty Case is available from the
My chemist Direct
website, and is priced at £29.99.
Do you own a makeup case?  What are your favourites?