With a degree in Financial Management and fluency in four languages, Viktoriya Sener has been the brains and beauty behind Tie Bow Tie blog since 2012. Born in Ukraine, Viktoriya currently blogs from Instabul serving as a stylist, photographer, model and editor to her personal website, and is a regular in style sections among international fashion websites showing off her colorful style.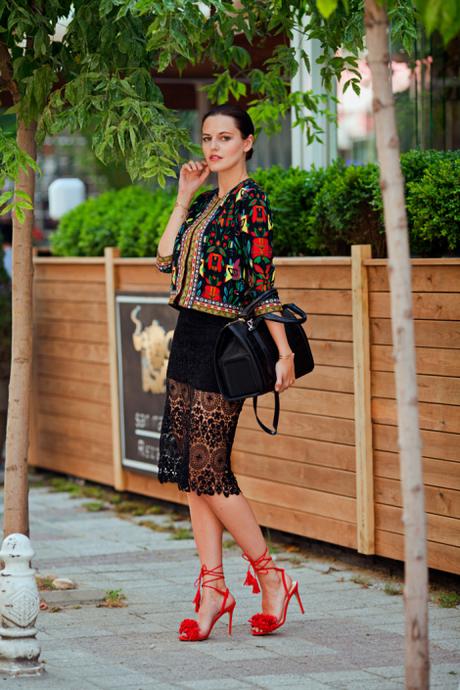 What inspired you to start your own blog?
Three years ago blogging was extremely popular, and I thought that my style was pretty nice and worth sharing with a potential audience. But after digging the topic deeper, I realized how much work is waiting for me ahead, and how many things have to be done. The decision to start blogging was the right one. I am so happy I've found the courage to do it.
How important is the name of the blog?
Well, some pick it up with a dose of humor, some spend days and weekends thinking it over and over again. If you want to run your blog like a pro, the name should reflect the main idea of your website. I've chosen mine in honor of my favorite accessory.
How difficult is it to find a blog niche?
Let's say you're fashion blogger, what kind of blog will yours be about? Personal style, street-style photography, news, or maybe catchy stories? Or even a mix of all these things? Do you have any topics you are passionate about? Do some brainstorming and research to understand what you want to bring to the public, and show in your blog.
What is the best way to promote and grow your blog?
Content is king, no doubt about it. If you have it, go on, use social networks, Bloglovin, fashion communities (like Lookbook, Chictopia etc.), upload your photos wherever you can. Also Instagram is super important; you can get additional visitors with the help of this app. Another thing is being featured in a prestigious fashion website – works for me, at least.
What is your main audience and how did you reach out to them?
My audience is ladies 18-35 years, who love shopping, vivid prints and fashion as much as I do.
How important is it for your business to attend fashion week?
If you have such opportunity, don't waist it! Sure, it's super important; you can get noticed by brands, fashion photographers, even get new offers and contracts. New York, Milan, London and Paris are the most important destinations during fashion week.
What are the best tips for building long-term relationships and partnerships with brands?
You have to understand what brands exactly want and how they see the collaboration. Providing exclusive images, honest reviews and knowing what your readers wish to see in your blog is the key to successful collaborations.
What is the biggest challenge about running a blog?
Time management is really challenging for me. Planning and writing down goals is the key to do everything early in the day.
What advice would you give to anyone looking to start a blog today?
Prepare to learn many new things in short time, because today the blogosphere is overflowing with great blogs, so you should be really recognizable and unique. If you want to turn your blog into a business, be ready to invest in it; and I'm not only talking money.
What are your ultimate plans for your blog/blogging career?
Increase the number of my readers, see my photos in famous fashion websites and magazines, collaborate with favorite designers and make this journey more interesting and fun.
www.tiebow-tie.com
Images © Viktoriya Sener
A.