Founder of ChicGlamStyle Rachel Owiti started her personal blog to channel her passion for timeless fashions and minimal style; in her own words "[...] as far as fashion is concerned, you cannot go wrong through minimalism. In fact, a minimalist's style accentuates your qualities, without negating the need to appear fashionable." Today, the content of her website ranges from offering fashion and beauty inspiration to covering events and giving life tips. Besides updating her blog, Rachel also works on her jewelry line that follows the same style as her website; offering stand-out pieces of a minimalist design and smooth features meant to bring out every sleek, stylish look.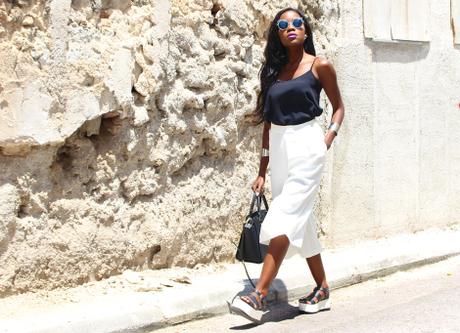 What inspired you to start your own blog?
It's funny that I didn't start my blog because someone or something inspired me. It's not like I saw some blogger and said to myself "I want to be like her." It happened spontaneously! I remember it was right after my final university exams that I suddenly decided I wanted to have a blog. Like all fashion bloggers, I love fashion, so I thought "why not share something I love so much with the world?"
How important is the name of the blog?
The name of the blog is of vital importance. You'll be using it a lot, so you better find one that you enjoy, and stick with it. In the blogosphere, it's better to create short, quirky titles rather than long, complex ones. However, an extremely, overly simplistic title may become lost in the sea of other cleverly-named blogs. You could try to bounce some ideas off of your friends.
How difficult is it to find a blog niche?
It can be somewhat difficult to find a niche. If you want to find a good niche, you ought to go for something that you think will stick around, and something that you'll stick around for - forever, or at least as long as possible. I had a passion for fashion - sounds cliché, I know! - so I ended up with a fashion (and occasionally beauty and lifestyle) blog.
What is the best way to promote and grow your blog?
There are several ways to promote and grow your blog. The most prominent is social media - if you don't have an account, or just haven't had the time, well, now's your chance. In order to promote your blog, you really need to go ahead and start tweeting, facebooking, instagramming - whatever, you name it. But, if you just can't handle all the hassle, there are other ways. You can get it through some contacts you may have, or you can post on other blogs.
What is your main audience and how do you reach out to them?
The main audience for my blog is, of course, women looking for fashion inspiration. To reach out to my readers I try to create compelling and attention grabbing content. Whether it is through writing or photography, I always want it to be something my readers will remember.
How important is it for your business to attend fashion week?
It's extremely important to attend fashion week - even if it's just once. You'll get to network and collaborate with friends and potential business partners. You'll also probably get some insider tips.
What are the best tips for building long-term relationships and partnerships with brands?
It's essential to build long-term partnerships with brands, especially if you're a blogger. To capture their attention, your blog has to look great as well as have a good reputation. If you're starting out, then you need to go for smaller brands. Once you've gained some traction, you can start going for the bigger fish. Most important of all...be professional! I can guarantee you if you act professionally with any brand, they will want to work with you long-term.
What is the biggest challenge about running a blog?
There are several challenges to setting up your own blog. Specifically for fashion blogging, you need to be up to date with fashion (trends, news, style). Also, with all the people blogging, you'll have to make sure that you can stand out from the crowd in order to bring traffic to your site. At the same time, you also need to make sure that you can connect with your audience. For me, the biggest challenge is being consistent, always creating compelling content, and doing it as frequently as possible. It is crucial if you want to be a successful blogger.
What advice would you give anyone starting a blog today?
First, learn how to use WordPress! Seriously, though, if you want to start a blog today you should know that there are millions of bloggers out there at the moment doing the same thing. For that reason, you should never be discouraged or impatient if for some time you have very little to no traffic. Be persistent, consistent, professional. It took me a while before I started seeing results.
What are your ultimate plans for you blog/blogging career?
I actually haven't thought this part out yet. I definitely want my blog to be successful so I will keep blogging to reach my goal. I believe through my blog many wonderful opportunities will arise. Who knows? I might end up working for Vogue!