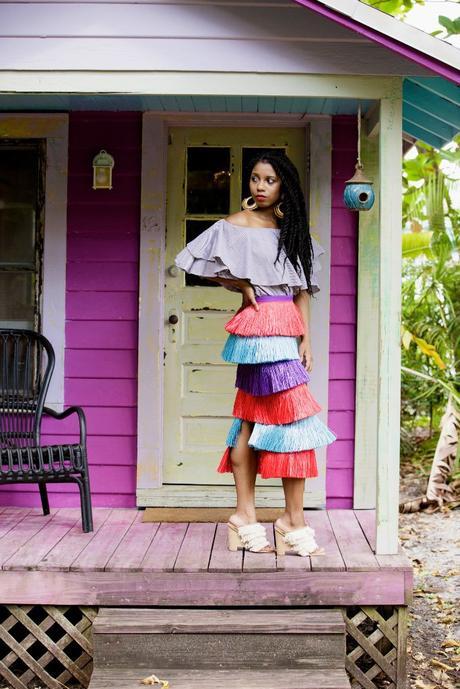 Blog: Fashion Steele NYC
Who: Monroe Steele
Where: New York City
Age: 32
Blogging Since: 2010
---
What inspired you to start your own blog?
My day job as a physical therapist prohibited me from wearing anything fun and fashionable the first few years. I was mostly wearing scrubs and clothes I didn't mind getting dirty in and moving around in. Fashion Steele NYC was a way for me to express my love for fashion and document all the clothes I never got to wear on a regular basis.
How important is the name of the blog?
It's pretty important. A clever blog name can catapult you into success. I like my blog name because it is the basis of my life, which is always looking for a fashion steal or a fashion STEELE, whether that be luxury, Ttrift or high street.
How difficult is it to find a blog niche?
It's not difficult at all. I would say to blog about what you know, or what you're passionate about. That makes it easy and also relatable, and the people who are genuinely interested in what you're doing will find you and follow you.
What is the best way to promote and grow your blog?
Currently Instagram is where it's at when it comes to promoting your blog. Snapchat is a close second. I always carry my blog business cards because you never know who you're going to meet especially in New York City. I usually update my different social media channels when I post something new, from Twitter and Facebook to Snapchat and Instagram. I also post on my Linkedin account because I'm connected to a lot of brands and PR persons I'd love to work with.
What is your main audience and how did you reach out to them?
My main audience is 20-40 year old women, who are educated, savvy and love a great deal when it comes to fashion and shoes. I didn't necessarily reach out to just that audience. I wrote about what excites me, and these are the women who liked what I had to say.
How important is it for your business to attend fashion week?
If your blog is a fashion coverage blog, then it's somewhat important but not a requirement. I cover fashion events for Fashion Steele NYC, so definitely for me to attend New York Fashion Week is something my readers were expecting. After covering about six seasons, I'm now focusing more on digital show reviews and trend forecasting for my readers. I may still attend Paris Fashion Week, but I don't think I will be covering New York Fashion Week the same way I did two years ago.
What are the best tips for building long-term relationships and partnerships with brands?
Keep in touch, and not just when you want something. I love sending personalized hand-written "thank you" cards after working with a brand, even if its something as small as a Twitter or Instagram campaign. Tweet the brands you love, and comment on their Instagram feeds. The more you show you're a fan and interested, the more they will take notice of you.
What is the biggest challenge about running a blog?
Running a blog and having a steady 40-hour a week job. Planning and time management are imperative.
What advice would you give to anyone looking to start a blog today?
Go for it, and just be consistent, and have fun! Don't take yourself to seriously, and don't expect to make a wage you can live off of doing it. Blogging really starts for most people as a passion project.
What are your ultimate plans for your blog/blogging career?
I would love for my blog to continue to grow in readership. I'd also like to expand into more editorial and travel blogger in the near future, and add more lifestyle elements to Fashion Steele NYC.
Images © Fashion Steele