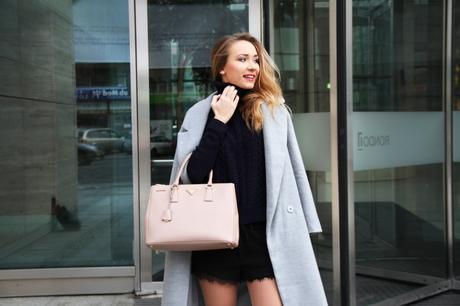 Blog: Dream. Love. Shop.
Who: Anna Gotsyk
Where: Currently based in Poland and Ukraine
Age: 21
Blogging Since: 2012
---
What inspired you to start your own blog?
It was my love for fashion and nothing else. A possibility to share this passion through blogging and social networks just turned my world upside down.
How important is the name of the blog?
I do not see any special importance about the way your blog is called. It's all about your personality, your style and the vibes you send to your followers. You may choose the best sounding name but it will not bring you success. Look at the most popular bloggers these days. Do you think their success has something to do with the blog's name? Do we really care about their blogs' names? Plus, Instagram is getting more important and influential than blogs now. People start remembering more of our actual names than blogs' names.
How difficult is it to find a blog niche?
It is definitely not easy. What I see very often these days is bloggers mixing inspiration with copying. They see photos and styles of other bloggers, find them cool and subconsciously copy them in future. Then all these bloggers look alike although each of them thinks they are so unique. Niche is about getting an audience that feels a connection with you, feels attached to you and wants to see what is going to happen in your life next. Fashion blogging is so much about lifestyle these days. You cannot be a successful fashion blogger if you are not showing your readers 80% of your everyday life (which is supposed to be exciting). Attracting readers' attention to your life and keeping it is all about creating a blog niche.
What is the best way to promote and grow your blog?
It is all about Instagram these days. Sounds strange but good for us, bloggers. Focusing on one most important social network is really easier than trying to make it on them all. My advice is: put all your efforts into creating good content on your Instagram page, share a lot of your "fashionable life" and, of course, engage with others.
What is your main audience and how did you reach out to them?
My main audience are girls who are a lot like me. It's hard to be sure but it's what I feel from the comments I receive. They must be active personalities in their 20s who love fashion, traveling and eating tasty food. They are adventurous and eager for challenges and surprises that life brings them. They enjoy little things of every day routine. They love wearing clothes which make them feel confident and beautiful, but comfortable at the same time.
How important is it for your business to attend fashion week?
I have never attended fashion weeks and do not plan it in the nearest future. I have seen enough of bloggers who have been in business for several years and describe fashion weeks as a torture. Wearing summer sandals in winter because you are obliged to follow the trends during fashion week? I'd better stay home and remain healthy. And I am sure my audience will agree with me on it. I am feeling very sorry for all those poor bloggers who got sick in New York this winter – there were too many of them.
What are the best tips for building long-term relationships and partnerships with brands?
Long-term partnerships with brands do not happen very often and they are not supposed to. Collaboration is an interesting experience for you, your audience and a brand. However, living the same experience gets boring, doesn't it? Emphasizing to your readers on the greatest qualities of the same products starts getting on their nerves too fast. And a blogger does not get a lot of pleasure from it either. I strongly recommend all the bloggers to think about their readers before excepting long-term collaborations with brands who promise a good reward. If you are still interested in how to make a brand want to collaborate with you more – it is all about the return that you generate. You must bring them the amount of clicks and clients they wish for. In addition, your blog's image must correspond with the brand's image.
What is the biggest challenge about running a blog?
All of the bloggers are humans with different personalities. Therefore, everybody's challenges are different. What is difficult for me is being present online everyday. There are some days when you just want to live boring life without posting anything on Instagram. But that is not what followers expect from us.
What advice would you give to anyone looking to start a blog today?
I guess it is quite impossible to answer this questions at the beginning, but I would still advise them to ask themselves: Am I ready for it? Being a fashion & lifestyle blogger is a 24/7 job. Do you really want it?
What are your ultimate plans for your blog/blogging career?
I am just letting it flow. Blogging is not my career, these are the feelings that come from my heart. As long as I have something to share, I will keep on doing it. As long as brands which I love offer me to work together, I am glad to do it. My plans include a change of location next year. This location is very different from the Eastern Europe where I am based now: it is full of opportunities and inspiration. It will be a real adventure both for me and my followers.
Images © Dream.Love.Shop.