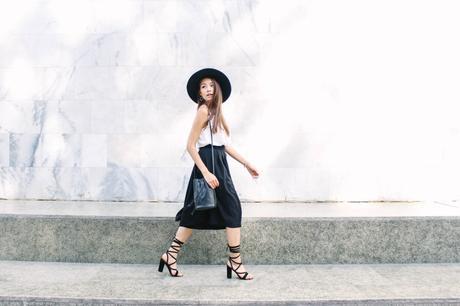 Blog: Daphale
Who: Thao Nhi Le
Where: Germany
Age: 21
Blogging Since: 2014
---
What inspired you to start your own blog?
I loved fashion since I was a kid, and my biggest inspiration were my parents. The way they dressed me was always trendy, so as a kid I got a good fashion sense, which I never lost. I was 14 when I started to take more pictures of what I was wearing, and, finally, one day I posted my looks on Lookbook. I really wanted to create a blog back then but I just had not the right knowledge and people to do so. But of course I took the chance and created DAPHALE.
How important is the name of the blog?
I called my blog "DAPHALE," which means "rhinestone" in Vietnamese, as I wanted to share a simple and visual diary reflecting my own style, love for fashion and the small things in life that keep me busy and happy – such as traveling and good food. As it is pronounced "Da Pha Le" it includes my last name, which again is connected with my family and the fashion sense I inherited from them.
How difficult is it to find a blog niche?
I think it is quite difficult to find a "blog niche" nowadays, because there are so many bloggers who express their own style. In my opinion, it is very important to blog about the topic you are really interested and passionated about. For me, it will be always fashion and travel. It's essential to express your true self. And, eventually, you will gain readers and an audience who will share the same interests.
What is the best way to promote and grow your blog?
In my opinion, the best way to promote your blog is through social media. It is one of the best way to reach most people with less/no budget. If you are creating very good and quality content, the engagement of your followers will grow automatically, and so will your popularity. For me, Instagram is the best network to do so. Therefore, it is important to create quality content which is truly relevant to the followers. This will help you grow. Maybe not fast but continuously.
What is your main audience and how did you reach out to them?
My main audience are young girls and women between 15-28 years old, mostly in Germany and Southeast Asia. I am mainly reaching out to them through social media. With Instagram, Snapchat and Facebook, they can always follow me through my daily life and be a part of it. Through the regular blogposts, they get a deeper insight into my personal world. And with giveaways I am rewarding my true followers for always supporting me.
How important is it for your business to attend fashion week?
Personally I think it is important for me, because it is very interesting getting close to the fashion world in real life, meeting new people, making connections and updating your followers on the trends for the next season. For me, attending fashion week is fun, and feels more like a holiday rather than business.
What are the best tips for building long-term relationships and partnerships with brands?
There are only a few things you have to focus on: 1) always answer your emails on time; 2) be reliable; 3) create quality and interesting content; 4) keep in touch with your partners.
What is the biggest challenge about running a blog?
One of the biggest challenges is for sure finding the time to run it. My blog is not my full-time job, so it is really difficult to get everything done. Even when I have so many ideas, it is difficult to do everything on your own – you are your marketing director, content editor, graphic and video designer, journalist and creative head. Also, because there are a lot of bloggers doing an amazing job and create high quality content out there, you have to stay true to yourself and try to differentiate from them all. It is really not easy, and the biggest challenge is to shine out of the crowd.
What advice would you give to anyone looking to start a blog today?
It is never too late to start a blog; just do it if you want to. Don't wait for the right time because the right time is always now. Don't hesitate because you think you don't have a chance against the big influencers. Just create your own style, share your thoughts and always stay true to yourself. Never give up!
What are your ultimate plans for your blog/blogging career?
That's a good question. I think everyone who starts blogging and puts so much time, passion and effort into the blog wants to be somehow successful. Everyone defines success differently though. My ultimate dream is to be successful, like Chiara Ferragani, the Song Sisters and Negin Mirsalehi. I would like to work with sophisticated and cool fashion labels around the world, travel around and be a big part and influencer in the fashion world.
Images © Daphale