25-year-old Buşra Çam, a drama graduate and personal style blogger, is the creative brains behind Istanbulian Chic. Every image published in her posts is vividly echoing her drama background, as Buşra transforms effectively her looks to match a particular concept in every story she shoots. Based in Istanbul, Turkey, Buşra has been blogging for the past four years, during which her relaxed, bohemian style has gradually evolved into what it is today – fairly sophisticated with vintage and idiosyncratic embellishments.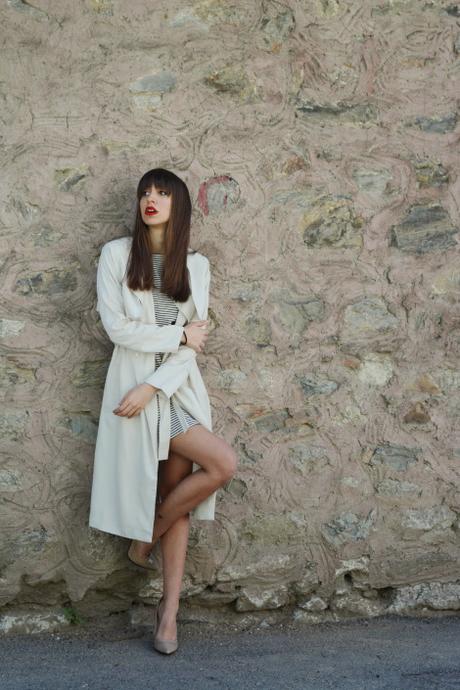 What inspired you to start your own blog?
I was modeling for special photography projects in 2008. Back then, I used to share these pictures on lookbook.nu. Due to all the positive reactions I received, I decided to upload these images on a blogging platform, Fash Bushe, which is known today as Istanbulian Chic.
How important is the name of the blog?
I would say it is the most important part, as it is a permanent "sign" in the blogosphere. Finding an original "name" which would reflect your personality and find a place in people's minds is very important.
How difficult is it to find a blog niche?
If you have a niche blog, people think you are serious about the thoughts and knowledge you share on your blog. This could be a profitable thing, in the sense that it will attract more advertisers and followers. But even if you are a niche blogger, you should always consider the fact that you are in a big competition with other bloggers, that you always have to be updated.
What is the best way to promote and grow your blog?
The key is making the most of social media. Being original and updated are also equally important. You have to post frequently, so that your followers never get bored. Advertising campaigns is another way, but I do not consider them as effective as social media.
What is your main audience and how did you reach out to them?
I have been sharing my style, picks and experiences, so I consider anyone interested in reading these my audience. I try to be honest about myself and stay away from being commercial. I do not share anything that I don't like. Quality and honesty are the main things that connect me to my audience.
How important is it for your business to attend fashion week?
I consider fashion week a reunion party. It's when people with the same interests, fashion professionals, designers and several others get together. It's an excellent opportunity to strengthen your relationships and get to know new trends and designers.
What are the best tips for building long-term relationships and partnerships with brands?
Knowing what brands want from you and finding the right way to contact them is very important. Today, on the other hand, many brands are more interested in the number of a blogger's followers rather than quality, but there are exceptions too. Working with brands means having them trust you and you becoming a reference to their next projects, which can help you stay updated on their news and, on the long run, increase your following.
What is the biggest challenge about running a blog?
The biggest challenge is not being able to reach the right audience. The blogging world is too big and very mixed. The "right" audience for your blog sometimes will not able to find you. But you should never change your style just to get noticed; instead, be very patient during these times!
What advice would you give to anyone looking to start a blog today?
You have to be creative and unique, and give a reason for people to follow you. You have to be different from others, be open to progress and change. Quality is very important these days, and people have a wider range of opportunities. Therefore, you might find yourself completely lost at the very bottom, if do not try to get better and better every time.
What are your ultimate plans for your blog/blogging career?
We are working to improve Istanbulian Chic, which used to be a lifestyle blog. Our aim is to make it global, and we have been working on this for quite some time. Note that new blog will be a big surprise. So, stay tuned!
www.istanbulianchic.com
Images © Busra Cam
A.