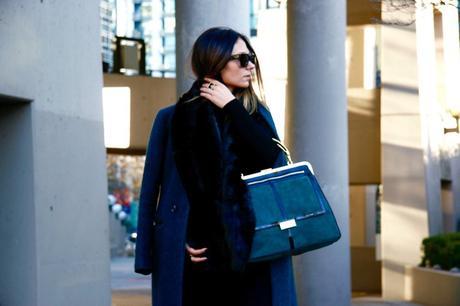 Blog: Aurela Fashionista
Who: Aurela Lacaj
Where: Vancouver, BC Canada
Age: 40
Blogging Since: 2015
---
What inspired you to start your own blog?
Fashion has been my passion ever since I was a very young kid. I live, breathe, and dream of fashion. I have always imagined being in the fashion industry, but somehow life got busier with other responsibilities. It was very hard to pursue fashion being a single mom and an immigrant in a foreign country.
Last year my son moved to Toronto to attend university and encouraged me to start a fashion blog and pursue my childhood dream. Although I was a bit resistant at first, as I am much older than most fashion bloggers, I decided to launch my fashion blog. This encouraged me not only to fulfill that long lost dream, it also helped me fill my empty nest in the absence of my son and share my passion for fashion.
How important is the name of the blog?
I didn't put much thought on the name. When I asked my sisters and all my girlfriends the one name that came to mind was Aurela Fashionista. It has always been sort of my nickname among my friends, coworkers, and family, so it was easy to pick that name.
How difficult is it to find a blog niche?
It is definitely not easy. I am still new to the blogging world and am still trying to find my niche. I try to inspire women in their early 30's and later ages, women who are busy professionals, moms and everyday regular women, who want to look their best without putting hours of effort in doing so. I have always been complimented for putting things together without much effort and I believe that comes because of my vision. I try to help women where fashion vision does not come so easy for them, and am hoping that these online fans become my niche.
What is the best way to promote and grow your blog?
Instagram is my main base for my daily outfits that I wear, but also try to be active in other fashion platforms and social media such as Facebook, Tumblr, Pinterest, Chictopia, Lookbook, Chicismo. Is really hard to be active and keep up with all the platforms since I work full time, but I love doing it so it is worth it in the end. Also, I am still thinking about a Snapchat account to add as a promotional tool, as I think it would be good for when I travel.
What is your main audience and how did you reach out to them?
My main audience includes women who love style just like I do and don't have to break the bank to buy expensive outfits and look fashionable. I want to inspire all mothers and busy working professional women with my everyday outfits as well as more stylish outfits for a night out in the city. I try to engage with them on the comments and follow other bloggers who have a similar taste to mine.
How important is it for your business to attend fashion week?
I would love to attend New York & Paris fashion week, maybe one day. Even if I wasn't a blogger I would still love to attend fashion week in Europe or NYC. I attended few fashion shows in Vancouver last few years, but my dream would be Paris fashion week.
What are the best tips for building long-term relationships and partnerships with brands?
I haven't had many partnerships with brands, as I am still a new blogger. I do have few enquiries that I am working to collaborate with them in the future. Stay tuned on my blog and Instagram account for more information about my upcoming collaborations.
What is the biggest challenge about running a blog?
Being able to juggle it all, I work full time and I do the blog after work or the weekends. I would love to do it full time, but not until I am more experienced and gain more followers and partnerships. My goal is to eventually quit my day job and follow my passion full time. Blogging full time would be much more enjoyable. Also my fiancé is taking my pictures for my blog so it's hard for him also to make time and do the shoots. Vancouver weather isn't as friendly when it comes to shooting specially in the winter, plus my fiancé travels on business so it's hard to make the time to fit it all in.
What advice would you give to anyone looking to start a blog today?
Do your research before so you know what it's like to run a blog; it can be very overwhelming when you aren't as prepared, but do follow your heart if you love it and pursue it. It took me a while to finally open my blog but I wish I did more research or I spoke to other bloggers before I opened mine.
What are your ultimate plans for your blog/blogging career?
Fashion has always been my passion so working in the fashion industry would be my ultimate dream come true. I work as a buyer in a totally different industry but would love to be a merchandiser for a high-end store or work full time on my blog, and inspire as many women as I can.
Images © Aurela Fashionista