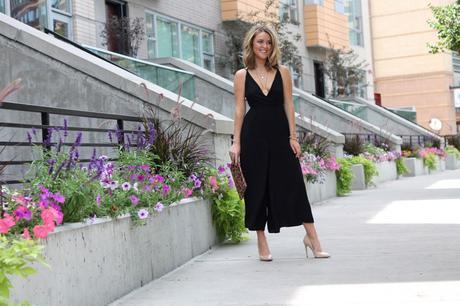 ---
Blog: everyonceinastyle.com
Who: Amber Wilkerson
Where: Denver, CO
Age: 27
Blogging Since: January 2013
---
What inspired you to start your own blog?
I've always loved putting together outfits and taking photos and when I started to see that there was a platform to share and get inspired by others I was immediately in.
How important is the name of the blog?
The name of your blog is very important. It is an insight into your blog and it's what people will identify you as. It is your brand.
How difficult is it to find a blog niche?
Finding a niche can be difficult. I think that really knowing your style and what you offer your readers is a great place to start when trying to find your niche. I think one of the great things about blogging is that your blog changes and grows with you and therefore your niche can change as well and you may stumble into a niche you never dreamed of.
What is the best way to promote and grow your blog?
Share content and be active on social media platforms and fashion community sites. Guest blogging is also a great way to get your name out there and exchange readership with other blogs and websites.
What is your main audience and how did you reach out to them?
My main audience is 20-something women but I've had high school girls tell me they love my blog and even my mom's friends have purchased an item I was wearing. It's cool to know you're reaching a wide audience. The main way I reach out to them is via social media – specifically my Instagram. It's fun to comment or check out their accounts and get an insight into their lives.
How important is it for your business to attend fashion week?
The great thing about the Internet and social media is that so much of Fashion Week can be seen without even going. This year I watched several shows live from the front row via Snapchat! It was awesome! That being said it's a life long dream to attend Fashion Week.
What are the best tips for building long-term relationships and partnerships with brands?
I think the key to building a long-term relationship and/or partnership with a brand is to be passionate about the brand. When your passionate about what your blogging about it shows and that usually creates a successful collaboration. I think it's important to keep in touch with your contacts and stay connected with the brand via social media.
What is the biggest challenge about running a blog?
The biggest challenge is how many hats you have to wear. As a blogger you are a stylist, model, photographer, re-toucher, social media expert and a content creator. You have to be creative and business savvy at the same time.
What advice would you give to anyone looking to start a blog today?
I would say have a clear vision of what you want your blog to be and what makes you unique.
What are your ultimate plans for your blog/blogging career?
My ultimate plan is to blog full-time and continue to grow my blog with me and my life. I would love to one day collaborate to make my own line of some kind. I think blogging is really just beginning and that the possibilities are endless.
Images © Every Once in a Style