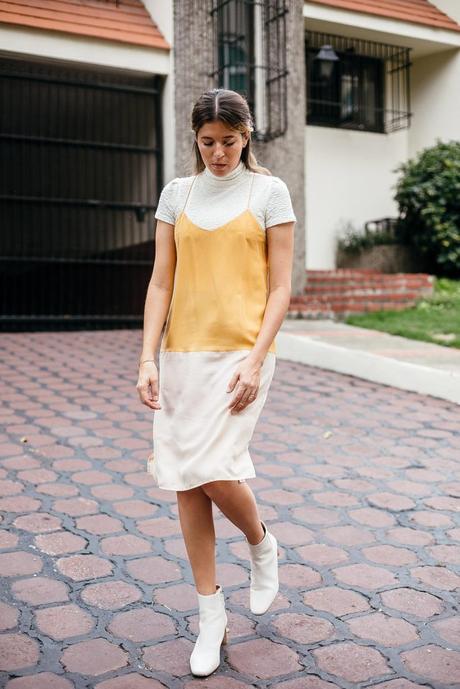 Blog: A Constellation Journal
Who: Maristella González
Where: Panama
Age: 31
Blogging Since: November 2014
---
What inspired you to start your own blog?
I absolutely love fashion but I didn't study something very fashion-related. Also, in Panama, all jobs pertaining to fashion are mostly very corporate. I wanted to work in the industry but have a global platform that was also a creative outlet.
How important is the name of the blog?
I think it's very important. I used to have another blog, and the name was clever to me and only me. Nobody else understood its meaning, therefore it wasn't provoking the reaction I was expecting. It wasn't memorable and, furthermore, it was a mouthful – not easy to pronounce. A name is a very important part of the brand. That's why I changed it, and chose "A Constellation." It is related to "Stella" and "Stellar", a nickname of mine and the name of my design studio respectively. And it has an actual meaning. A constellation is a group or collection of things, objects, or ideas that are related in some way. It's perfect for a blog!
How difficult is it to find a blog niche?
Niche bloggers cater to a different audience; sometimes in terms of style, sometimes in terms of content mix, other times in terms of the visual language (photography, design, etc.). Being a fashion or style blogger is a very visual job, so imagery and aesthetics help define your brand and speak to a specific audience or niche rather than the masses. I think it takes a longer time to grow because you need to shift through all crowds, but once you begin to reach the readers you were aiming for its very rewarding.
What is the best way to promote and grow your blog?
Being persistent with your efforts, consistent with your content, and engaging with your community of readers and other bloggers. And hashtags!
What is your main audience and how did you reach out to them?
Girls from around 20-35 years of age with an eye for design, an interest in art, architecture, travel, and a passion for fashion. So, basically, girls that I share common interests with. I reach out to them because I genuinely like their content and build relationships from there.
How important is it for your business to attend fashion week?
I think its very important. You get to meet people, you get content, you get inspired. You get yourself out there. When you live in a small country like me, its important to invest in traveling and networking.
What are the best tips for building long-term relationships and partnerships with brands?
Posting content in a timely manner, being professional with your proposals and your calendars. Working with brands that align with your values, your aesthetic and your own brand, so the relationship not only looks organic but it actually is organic. Listening to what the brand wants to achieve with each campaign or post and coming up with new and creative ways to achieve those goals.
What is the biggest challenge about running a blog?
Knowing when to stop! It's a 24/7 job. The Internet never sleeps and fashion is always evolving, so you need to be constantly on top of the latest collections, news, trends, apps, social media, etc. Commenting on your peers' posts, emailing back and forth with brands, scheduling photo shoots, editing images, writing texts, searching for affiliate links, brainstorming future content, etc. There is a lot of work involved, and you need to know when to stop and live a little.
What advice would you give to anyone looking to start a blog today?
There are so many blogs out there now that it's really important to set yourself apart from the rest. Instead of replicating other people's content or posting more of the same, try to create your own aesthetic and stay true to who you are.
What are your ultimate plans for your blog/blogging career?
My ultimate plan is to live 100% from my blog's earnings, and hopefully have that evolve into other job opportunities within the fashion industry. I'd love to collaborate with magazines in some way, maybe art direction. I would also love to design some day! It's a little scary but lately I've been considering it. I think a blog is a great launchpad for other careers in fashion.
Images © A Constellation Journal