I always wanted to try this pancakes for a long time . Luckily I found a few blueberries in farmers market last week . I saved few of them to make this beautiful pancakes . I must say that they turned out very well . My kids absolutely loved it . So now off to today's post Blueberry Pancakes Recipe .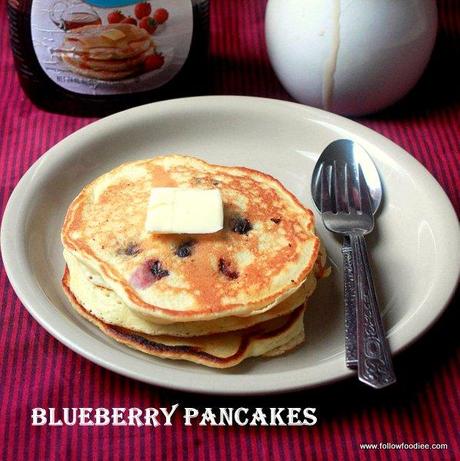 Preparation Time
:
15 minutes
| Cooking Time : 5 minutes  
Recipe Category
: Breakfast |
Recipe Cuisine
: American
 Ingredients:
  To make Pancake Mix :

All purpose flour - 1 1/2 cups
Baking powder - 1 1/2 tablespoon
Sugar - 1 1/2 tablespoon
Salt - 1/2 tsp
Wet ingredients : 
Eggs - 1 number
Blueberry - Few of them
Vanilla Extract - 1 teaspoon
Milk -  1 cup
Water - As needed
To Serve: 
 
Method :
Take a large mixing bowl . Add all the dry ingredients and mix . The dry ingredients are All purpose flour , Baking powder , Sugar and salt and mix well . Set aside . ( The ready made pan cake mix could also be used . It is available in the grocery store . )
Take the the egg  and Vanilla Extract in a bowl .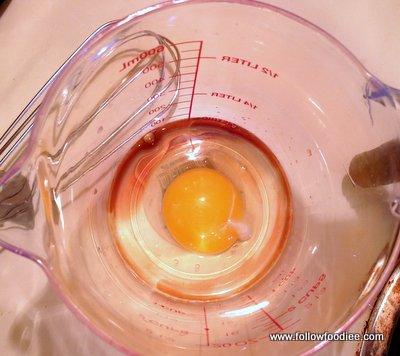 Add the milk and whisk the contents .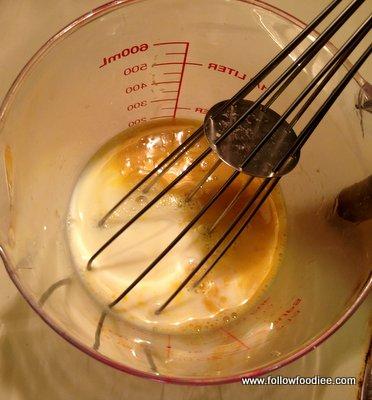 Transfer the wet ingredients to the dry ingredients .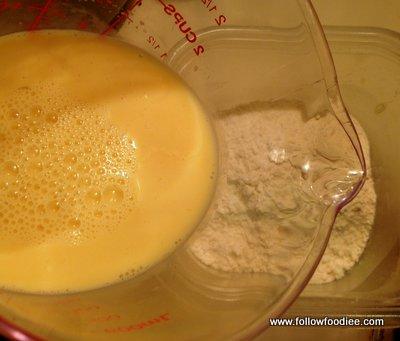 Add water and mix well to a desired consistency without lumps . Do not beat the contents  Only fold the ingredients .  The batter should be thick and not too thin .  Add the blueberries and mix .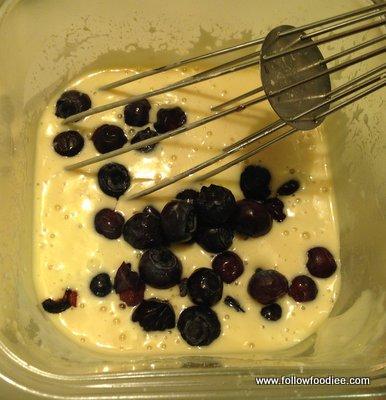 Heat a Griddle . Spread some butter on the griddle . Pour a ladeful of batter on the griddle and allow it to cook till the bubbles are formed .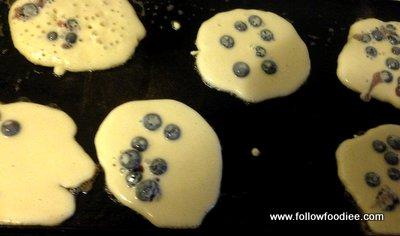 Flip to the other side once the bubbles are seen . Cook on both sides. Serve hot .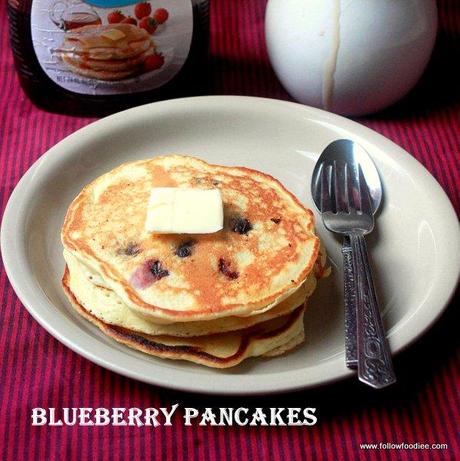 Serve the pancakes with Butter and Maple syrup . Done ! Yummy Blueberry Pancakes are ready to be served . 
Click here to find the Blueberry Milkshake  .
Check out the Other pancake recipe in the blog below :
Pumpkin Pancakes  
Lentil Creepes 
Spongy Dosa 
Instant Tomato Dosa 
Appam Recipe 
Cheese Dosa 
If you like this recipe please like my Facebook page here to get regular recipe updates , or follow me on twitter here , pinterest here , and Google plus here to get regular recipe updates.