Recipe Number One Hundered & Twenty:  Page 128.
Whenever I am lucky enough to go out for coffee, I never intend just to have a coffee; cake always comes into the equation. Also, when I choose a cake, it's usually a muffin that gets picked. The reason I always go for a muffin is because I can't make them! They are always tough and stick to the paper cases. As blueberries do not come cheap, I really hoped I could get these to work. Otherwise it would be a waste of perfectly decent blueberries!
Although Mary advises that these muffins are traditionally served at breakfast time, I personally like to stay in bed on a Saturday for as long as I can get away with it! Homemade breakfast muffins are really the last thing on my mind. I did manage to make a start at midday, however, which I considered to be quite an achievement in itself!
First of all I needed to put the flour and baking powder into my mixing bowl and rub in a small amount of butter. Once the mixture resembled breadcrumbs, I moved on to stirring in the sugar, blueberries and lemon rind. As I didn't add much sugar and I don't consider blueberries to be overly sweet, I wondered if they would be sweet enough to meet my sugary requirements! I mixed everything together before adding a couple of eggs and a scarily large amount of milk. I poured the liquid on top of the dry ingredients and then set about stirring it all together. My friend Ashley, who also has trouble with her muffins, said she had tried combining the mixture with a fork and found she had much better results. I had to try this method and see if it worked for me too. Very carefully I mixed everything together with a fork; I know how crucial it is not to overwork the mixture. Mary is reassuring when she says it should have a lumpy consistency as this is certainly what I had sitting in my bowl; it did not look good! I spooned the unattractive mixture into the muffin cases. Mary says to fill them almost to the top. This was easier said than done as I barely had enough mixture to get to the half way mark! The undersized muffins went into the hot oven for around 25 minutes. Meanwhile I enjoyed a doorstep sandwich, one of my specialities!
On my return to the oven I couldn't believe how well risen the muffins were. Some were well over the tops of their cases. They certainly looked much prettier once cooked! I did leave them to cool for a little while but I felt forced to snaffle one whilst it was still warm. I had my usual problem with the paper sticking to the base of the muffin, grrr! It did taste delicious; the lemon flavor really shone through and, unlike previous muffin attempts, it had a nice light texture. I wonder if this was due to the fork method. As I'd predicted, there wasn't quite enough sugar to appease my sweet tooth. However, for the sake of my teeth I'm sure it's for the best!
The following day Neil and I had another muffin each and were pleasantly surprised when the paper cases peeled cleanly away, leaving the muffin perfectly intact! We also both agreed that they tasted much better than the ones we had eaten the day before. I had always been led to believe that muffins are best eaten the day they are made but obviously that isn't always the case. So, no excuse to scoff them all in one day thinking that they'll be no good tomorrow – they'll been even better!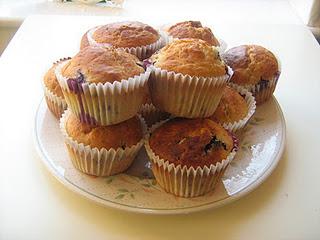 Fresh Blueberry Muffins :-)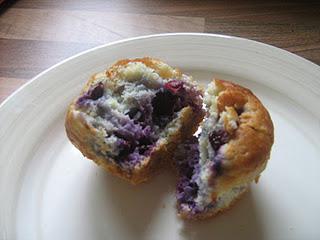 Bursting with blueberry goodness!