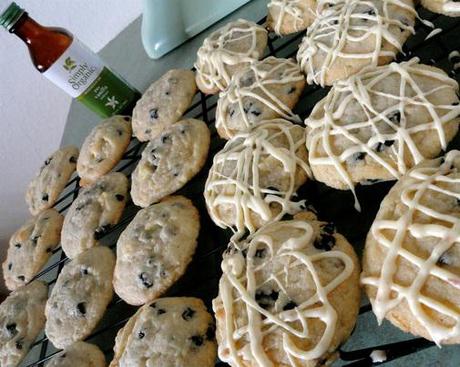 I'm back to graduate school in a few hours. The fall semester is here. I write the word 'fall' and shake my head because how can it be "fall" with the promise of another week of 100 degree temperatures? Austin needs to realize school season is here.
Children generally fall into two camps in regards to the start of school. There are those that solemnly stand by their backyard pool, offering homage to the end of carefree days. Then there are those that rearrange their school supplies at least five times before going to bed, eager for a night's sleep to usher in the morning.
I fell into the latter camp. The months of August and September were cherished for their newness. New teachers, new backpacks, new clothes, new friends. I saw the start of the school as a Beginning of something wonderful. My polka-dot swimsuit happily placed in the bottom drawer of my armoire.  
Now, almost 20 years after my first day of kindergarten, I still relish the days and hours leading up to a new semester. I organize my office, buy new supplies, write lists of goals and expectations, and practice an earlier bed time. Most years, I still buy a "back-to-school" outfit but thankfully, I've graduated from Gymboree to Anthroplogie (I don't know how "thankful" my wallet is though!)
When I think about the start of school, I remember mom braiding my hair, a simple yet satisfying brown bag lunch, and a new set of color pencils. I think of coming home with a folder full of forms and brightly colored worksheets. And then, I recollect my mom and me sharing stories of our separate days over juice and a communal plate of cookies. How could I not still look forward to August with memories like these?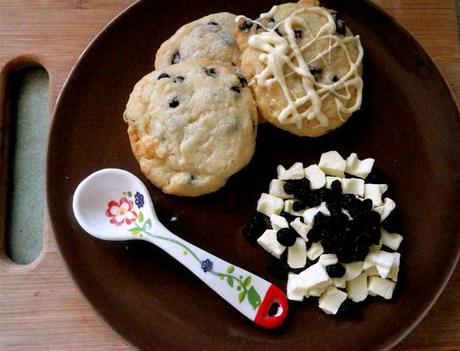 Blueberry and Cream cookies are an apt way to usher in fall and say goodbye to summer. These cookies are perfect for an afternoon treat. They're soft and subtly sweet as the dried blueberries dance with chunks of white chocolate. Little ones can take plastic bags filled with melted chocolate and drizzle lines and curls on the cookies their older siblings will later enjoy.
These cookies were inspired by a famous recipe from renowned Pastry Chef, Christina Tosi, of Momofuku in New York City. Her widely shared recipe involves the creation of milk crumbs. The process is not overly complicated but for an afternoon cookie snack, I crave simplicity. Instead of the extra step of crafting these crumbs, I opened a bag of white chocolate from Whole Foods. Chocolate is one of those ingredients that can rarely be beat.
As I sampled a bite of chocolate and dried blueberries, I knew these cookies would be perfect. The creaminess of the buttery chocolate pairs perfectly with the slight tang of the berry. Adding these gems to a recipe that produces a soft and chewy  cookie guaranteed an A+ success.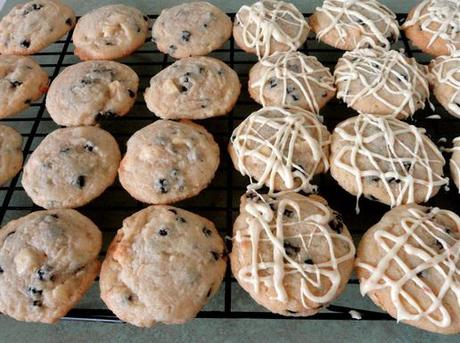 Blueberry and Cream Cookies




*Adapted from Baking Illustrated


2 cups (10 ounces) all-purpose flour
½ teaspoon baking powder
½ teaspoon salt
16 tablespoons (2 sticks) unsalted butter, softened but still cool
1 cup (7 ounces) granulated sugar
1 tablespoon light brown sugar
1 large egg
1½ teaspoons vanilla extract


1/2 cup dried blueberries




1/2-3/4 cup white chocolate chips


1. Adjust the oven racks to the upper- and lower-middle positions. Line 2 large baking sheets with parchment paper or spray them with nonstick cooking spray. Whisk the flour, baking powder, and salt together in a medium bowl; set aside.
2. Cream the butter, the 1 cup granulated sugar, and the brown sugar at medium speed until light and fluffy, about 3 minutes, scraping down the sides of the bowl with a rubber spatula as needed. Add the egg and vanilla; beat at medium speed until combined, about 30 seconds. Add the dry ingredients and beat at low speed until just combined, about 30 seconds, scraping down the bowl as needed.
3. Fold in the blueberries and white chocolate. Allow to chill in refrigerator for at least 30 minutes, preferably a few hours.  About 15 minutes before baking, preheat your oven to 350 degrees Fahrenheit.  Using a spoon or a small cookie scooper, scoop dough onto prepared pans.
4. Bake until the cookies are golden brown around the edges and their center are just set and very lightly colored, 15 to 18 minutes, rotating the baking sheets front to back and top to bottom halfway through the baking time. Cool the cookies on the baking sheets about 3 minutes; using a wide metal spatula, transfer the cookies to a wire rack and cool to room temperature. Store in an airtight container at room temperature.
Always,


Monet




Anecdotes and Apple Cores