Welcome back to another Blue Journal Entry!  Right up front I want to say thank you to everyone that has been responding and listening to these short recordings from us individually.  It seems you all are enjoying them, and we enjoy recording them, so, we're going to try and give you two entries a week, one from each of us, with Wes on Tuesdays and Michael on Thursdays.  So if you'd like to hear us cover something; a rumor, a bit of news, or just an opinion on something, feel free to hit us up and we'll happily kick out an entry.  Thanks again for listening, and until the next entry.
Its another minisode, another Blue Journal Entry, and Wes is back to give his views and opinions on the confirmation of season 9, and that seasons 8 and 9 will not have midseason breaks.
SPOILERS:  They just might not be what you would expect.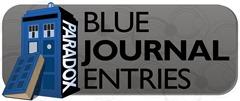 Podcast Details
Hosts: Wes & Michael
Release date: Varies
Subscribe: iTunes
Listen via Stitcher
Follow us on Twitter! Feel free to shoot us an email, and let us know your episode theories and opinions. If ANYONE wants to leave their reactions, leave a comment, or ask a question about anything Who related, please feel free. Just call our voicemail at 260-226-3446