It's that time again, time to turn another page for a new Blue Journal Entry.  (Like the wordier opening sentence?)  With this entry, Wes hits a couple of points on a few different subjects, along with giving a few hints as to possible things to come!  Definitely one worth checking out.
Wes tackles the rumors of Peter Capaldi potentially being a one-and-done Doctor and the mistakes that could be.  He also mentions Danny Pink, but is his an outlet to something else rather than a new companion?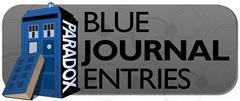 Podcast Details
Hosts: Wes & Michael
Release date: Tues & Thurs
Subscribe: iTunes
Listen via Stitcher
Follow us on Twitter! Feel free to shoot us an email, and let us know your episode theories and opinions. If ANYONE wants to leave their reactions, leave a comment, or ask a question about anything Who related, please feel free. Just call our voicemail at 260-226-3446
And if you'd like to submit an article or become a contributor to the site, you can email me at [email protected] or click here and fill out our nifty little form!!  Can't wait to hear from you all.