It just seems that the recent rumors have been calling, if not screaming for a Blue Journal Entry, so of course you know if anyone was going to knock one out regarding rumors, it was going to be me!  Be warned though, if you don't want to know anymore than what the title gives away, this episode might be something you want to come back to later.  While it's not based on any facts what-so-ever, you never know!  Enjoy, and feel free to tear me to shreds below in the comments!
Note:  Wes mentioned it in his latest BJE, and I also bring it up in this one.  Our friend Jarrod, who has had a short story published in the digital magazine; Beyond Imagination Digital Literary Magazine.  You can check out more information on the publication here, or to go check it out, go to the bottom of this post where the cover image is, and get more info!!
Thanks for supporting not only us, but Jarrod as well (and hopefully we can get him on the big show soon!)
With all the recent rumblings of the potential return of the Master to Doctor Who, you knew Michael would have to be covering the latest rumors!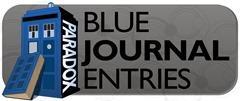 Podcast Details
Hosts: Wes & Michael
Release date: Tues & Thurs
Subscribe: iTunes
Listen via Stitcher
Follow us on Twitter! Feel free to shoot us an email, and let us know your episode theories and opinions. If ANYONE wants to leave their reactions, leave a comment, or ask a question about anything Who related, please feel free. Just call our voicemail at 260-226-3446
And if you'd like to submit an article or become a contributor to the site, you can email me at [email protected] or click here and fill out our nifty little form!!  Can't wait to hear from you all.
Beyond Imagination Digital Literary Magazine, Issue 1, Kindle Edition is now FREE from Amazon.  You can get it by clicking here or on the image below.  Be sure to check out the short story Prize Inside by our pal Jarrod Withers!!