Welcome to our latest Blue Journal Entry and this one is sorta hard to talk about without spoiling everything.  Basically the title says its all that can be said, but its fair to say that this entry can be considered as a major spoiler for a surprise in the premiere episode of Series 8.  If you want to be spoiled, you can read more about what I'm talking about here.
Also, I want to apologize if I ramble a little, I recorded this headed to my office and once I pulled into the parking lot, I had to wave a coworker away who was looking at me confused, so I go sidetracked just slightly.

In this entry, Michael talks about some of the latest spoilers to come out from filming of Series 8 and a certain phone call Clara receives in the first episode.
Be warned, major spoilers ahoy!!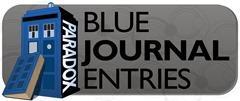 Podcast Details
Hosts: Wes & Michael
Release date: Tues & Thurs
Subscribe: iTunes
Listen via Stitcher
Follow us on Twitter! Feel free to shoot us an email, and let us know your episode theories and opinions. If ANYONE wants to leave their reactions, leave a comment, or ask a question about anything Who related, please feel free. Just call our voicemail at 260-226-3446