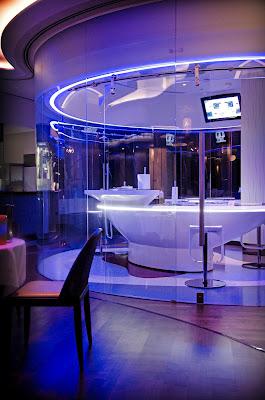 It's the kind of flame that comes from a gas cooker - shaped like a lotus, perfectly rigid until a pot is slid across it, then it too opens like a flower, and spreads, stretching always up - trying to find the highest point. It's contained in a blowtorch - blisteringly hot, pushing out in a forced and continuous exhale. In a bunsen burner, it's the purest flame - where soot particles are blown away by a perfectly open oxygen valve, the colour reflects complete combustion. It's a car, a very, very fast car. A rocket car. It broke the land speed record way back in 1970, and was named after the gas that propelled it. It's a beacon for Dracula, and others who seek pirates' treasure on St Georges Eve - it marks the burial points better than an X.
It's also a restaurant at Jumeirah Creekside Hotel. 
The hotel opened quietly over Summer, while any traveller with any sense kept their distance from this dusty inferno that is Dubai in July. It's given them time to ease into full service, but time is telling now - the crowds are back, and considering there's really only the Park Hyatt competing on this side of the river in that sleek and chic super-five-star niche, it's going to see some interest. The opening of this hotel, and also the Melia in Bur Dubai have been two I have looked forward to with great anticipation. It signifies the recognition that Dubai has something to offer besides business, beach and big spending. It's bringing the spotlight back onto what us locals know as 'Old Dubai', and finally introducing the luxury traveller to something other than the manicured and manufactured character of the southern beaches and endless marble malls.
Blue Flame is the signature restaurant. In layman's terms, it's the fancy one, where the hotel expresses itself as well as it can, unlimited in comparison by food budgets and other forms of artistic restraint. So, it's expensive, and it's got weird food. Luckily, there's a stack of people out there who don't mind that - namely, me (although I'm much more a fan of the latter than the former - but unfortunately they tend to arrive together). When I go out for dinner, I like to be wowed. Sometimes it is more of a 'shock' than a wow, but it doesn't stop me. I want something I would never cook at home, because it's either too finicky, or I quite simply couldn't think of it.
Blue Flame call themselves a 'grill restaurant', but it's not completely the case. They also excel in this lovely little wedge between molecular gastronomy and fusion cuisine that remains on the casual side of pretentious, with the added benefit of being in the main, organic and sustainable produce. Bending to Middle Eastern flavour, the menu is populated with mainly grilled items at main course, which while good, are not far as innovative or unique as their entrees and desserts. Have a look at their sample dinner menu here - it only includes about half of what is on offer, but you get the drift. Entrees range from exciting to downright challenging, the grills are the same as available everywhere else, and the desserts are clever and tempting.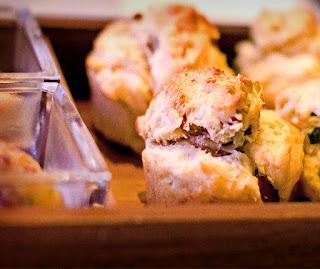 Our personal experience started with some first class bread. I couldn't be 100% sure, but I think it was soda bread, and came in two flavours - shitake mushroom and corgette. They were warm, gorgeous little scones filled with feelgood aroma, and served with lobster creme and bacon butter - an entree in themselves. Still, husband ordered the twisted tuna for entree, which came carpaccio with perfect peeled parcels of cherry tomato, soft-poached quail eggs and lashings of dressing that both tanged and melded flavours. My entree was the ravioli - the only fault the name, because it was a large singular raviolo filled with a poached hens egg that seeped as hoped into the profusion of micro-herbs and baby asparagus spears. Cooked perfectly.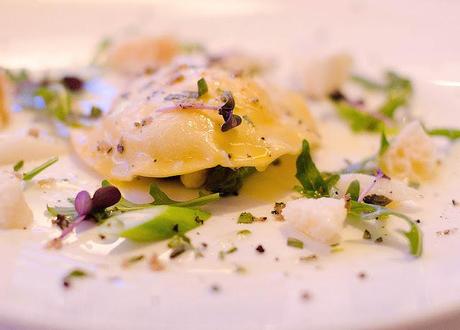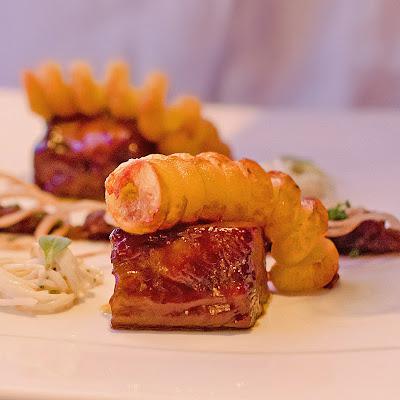 My chosen main of crusted mahi mahi was unavailable, so I changed at the last minute to king prawns from the grill, with asparagus and a lobster pernod bisque. The prawns were enormous, but not exciting. My asparagus side dish had been decapitated (I think all the spears went on my raviolo). The sauce was too reduced and the entire dish needed more juice. Husband's 24 hour beef ribs were better. Soft, slightly gelatinous, a lovely sticky sweet glaze, and partnered with a twist on coleslaw that contrasted very well. But the curly fries looked like turkey twizzers - hidious things that Jamie Oliver declared war on in his school dinners series, for good reason. These of course, were probably house made, and artfully so, but made the dish look like something from an English school canteen.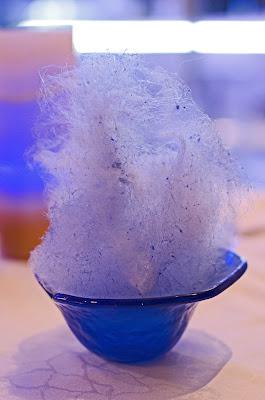 We shared a dessert, one hard to pass up - a Karkadeh (hibiscus flower essence) creme brulee with cinnamon jelly, biscotti and a cloud-like ĂŽle flottante meringue. The karkadeh possibly sounds better in theory than it works in practice, due to its slightly acidic nature but it was still an excellent dessert, and for those who would usually find a creme brulee too rich, this is the one to test the boundaries on. After dessert we were presented with a bowl of symbolic blue flame - fight inducing fairy floss, that husband ate more than his fair share of. Luckily it dissolved in his mouth in nanoseconds, otherwise I might just have drawn his greedy jaws apart to fetch it back.
The restaurant has thrust itself firmly into Generaton Z. The interior is a tribute to the modern angles and gleam of the 1920s, 50s and 80s, and yet also a little futuristic and beautifully spaceshippy. It's nicely lit, with blue highlights in nooks and crevices, particularly effective in the wavy ceiling. Unfortunately the floor hasn't seen the complete treatment, and is, between islands of funky vinyl, fake wood laminate. It bothered me all night, and in an 'Art Hotel', where everything else is edgy, it's completely out of place. In the centre of the room is a surreal and elegant cooking pod, where anyone can jump in for a class between 7 and 8pm, and for little more than the cost of the meal, will get to absorb a little expertise from Chef Ruben before they sit down and feast. It's also available for private bookings.
Keeping inline with the forward-thinking style, winelists arrive on ipads. It's good in theory, saves money on printing, should be easy to keep up to date, helps the drinker to sort the wine according to their preference, e.g. by colour, country and bottle/glass. However, it's a little hard to navigate, and needs refining. I'd like to see more options, dividing wines by style, and having an opportunity to enter your menu choice and find a wine to match. I'd also like to see more wines on the list - it's in the main a little overpriced, and lacking the excitement I found in the menu.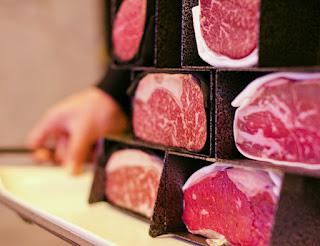 So - it's a little of all the other 'blue flames' out there - it's so cool its hot, has a clean pure atmosphere, it's speeding forward ahead of other restaurants in style and function, and there's plenty of treasure to be found on the menu. But... with all new restaurants, it needs time to settle into itself. There were a couple of teething problems on the night - flat champagne that needed to be replaced, items on the menu not available, offering us a view of the meat tray before checking if we were interested (which might have just been a deal-breaker for a vegetarian), and a little over-checking on our happiness throughout the evening. I'm looking forward to a return visit when they've settled in a little more.
-----------------------------------
Jumeirah Creekside Hotel is open for lunch and dinner all days.
Tel: +971 4 230 8580
Email:

[email protected]


web: www.jumeirah.com
It's located in Garhoud - not far from the airport and close to the Emirates Training College
map