This week I tried one of Boston's most anticipated and talked about new restaurant's, Chef Ming Tsai's Blue Dragon! Just a week after it opened, Boston Bachelorette, Boston Attitude and I braved the nearly two hour wait (no reservations for parties of less than 10) to taste nearly everything on the creative tapas meets Asian fusion meets gastro pub menu.
   We walked in shortly after 7pm on a Thursday night and ordered some drinks at the bar while we waited. I tried the Loong, a delicious cocktail named for the legendary dragon made with dark rum, lime, falernum, and cinnamon. My friends ordered beer and wine, and commented that the wine list was short, but very well selected. The pinot noir was by far the group favorite!
   Once the crowd thinned out a little, we were able to take note of the atmosphere and decorum. It had a very industrial look, but felt upscale at the same time - perfect for the Fort Point neighborhood. We all agreed that if Blue Dragon takes reservations in the future, we're coming back and requesting the table with the waterfall!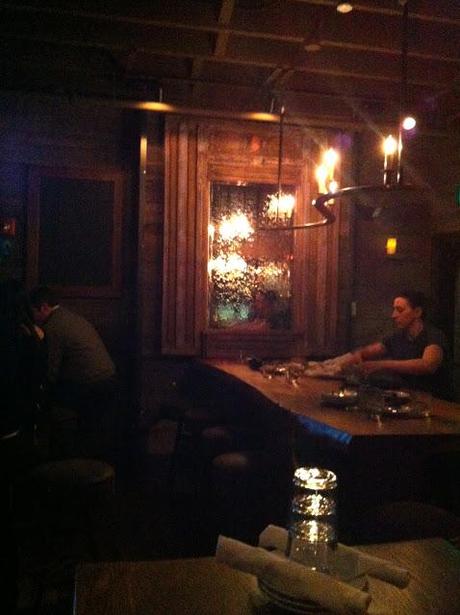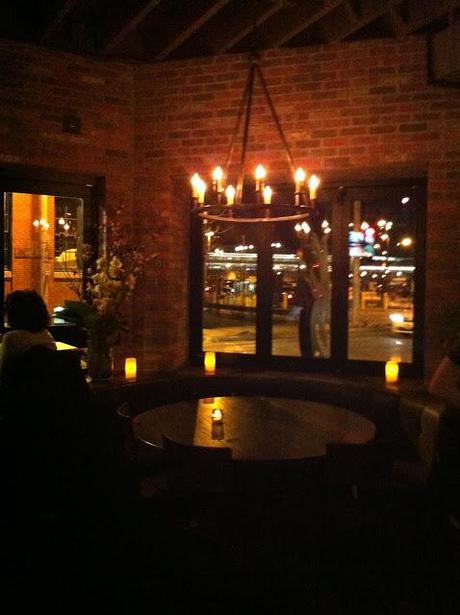 At about the halfway point during our wait for a table, we were able to score a spot at a bar table with standing room! We ordered a few apps while we waited including: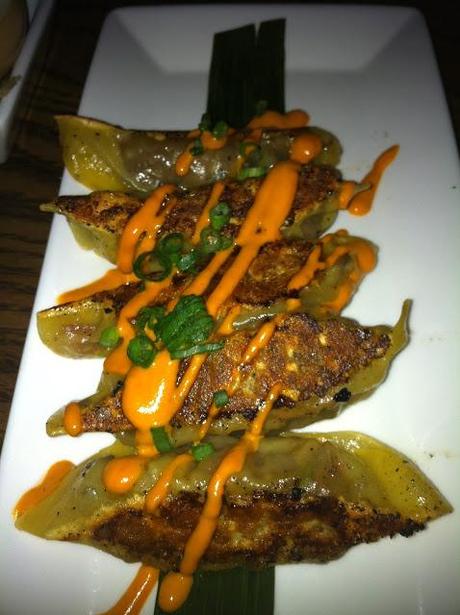 Braised Shortrib and Chinese Celery Potstickers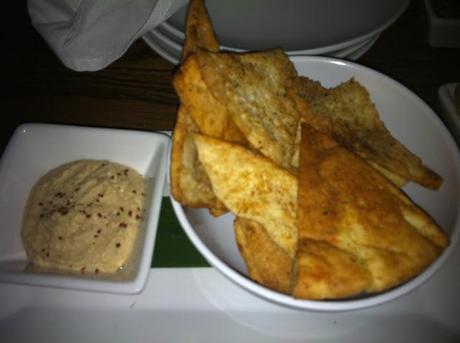 Whipped Hummus with Spiced Pita Chips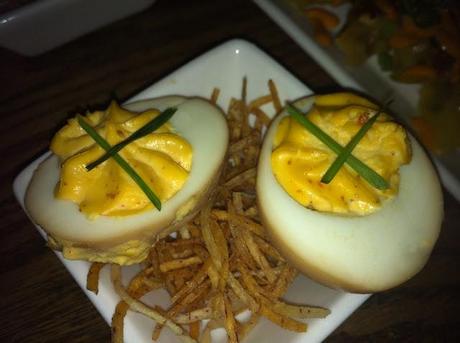 Soy Pickled Deviled Egg with Taro Nest   As a huge fan of shortribs the potstickers were my favorite, but I really enjoyed all of these dishes (even the deviled eggs, which aren't something I'd normally order)!
   After being seated we ordered several more dishes to share, including some of the larger plates and sides on the menu.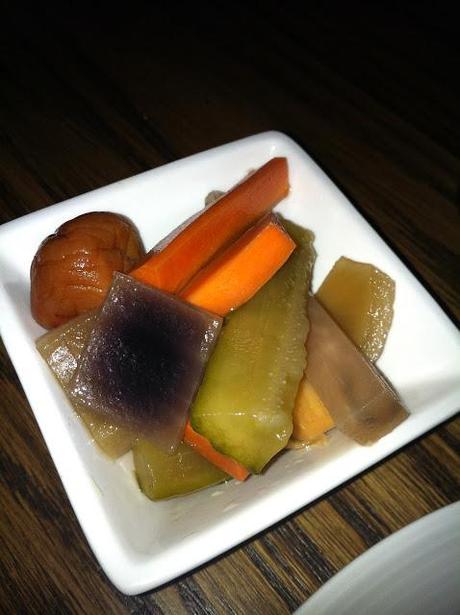 House Pickled Vegetables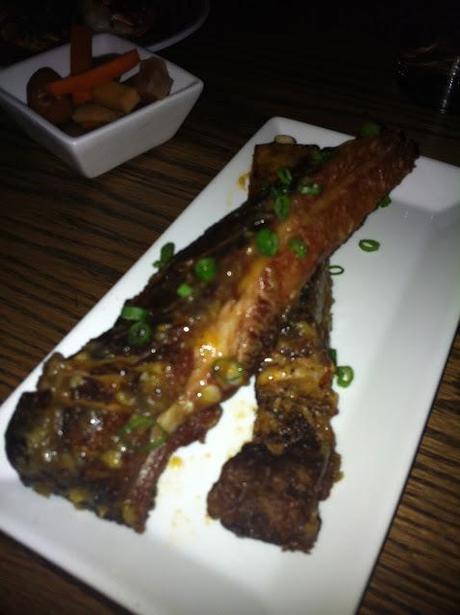 Sweet and Sour Pork Ribs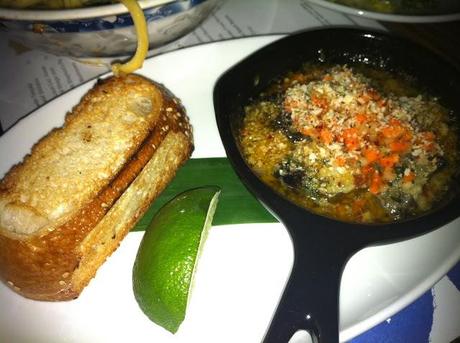 Escargot with Thai Compound Butter and Brioche Toast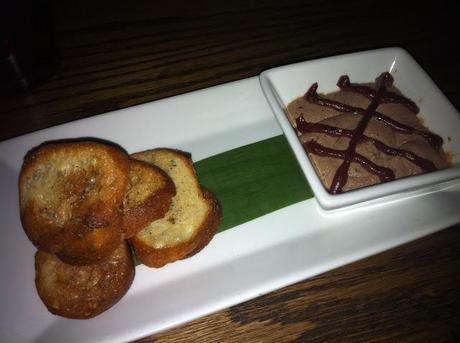 Black Pepper Duck Liver Mousse with Cranberry Jam and Crostini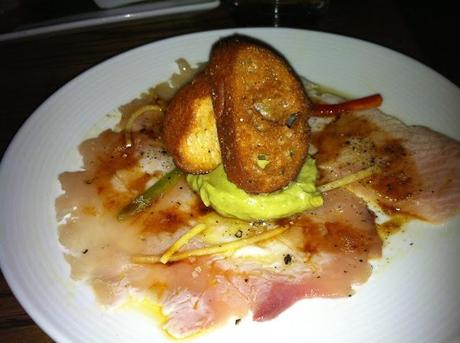 Hamachi Carpaccio with Avocado Puree and Crostini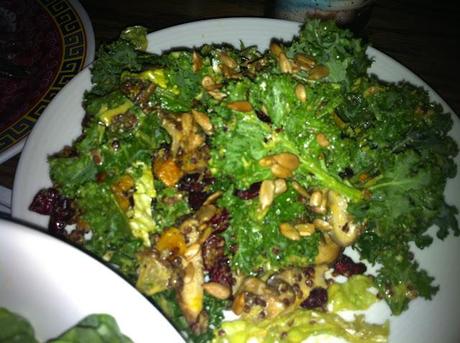 Kale Salad with Roasted Mushrooms and Winter Squash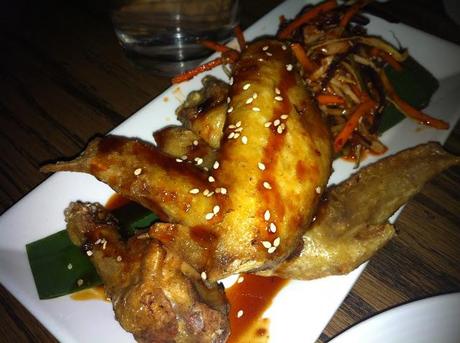 Korean Chicken Wings with Fresh Kimchee and Soy Glaze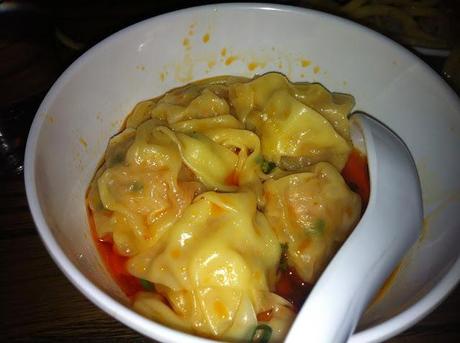 Shrimp Shumai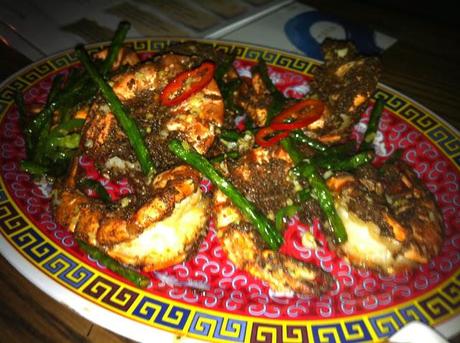 Salt and Pepper Shrimp
          Everything we tried was fantastic! My favorite dish was the salt and pepper shrimp - jumbo shrimp grilled in the shell with a spicy salted crust, served with red peppers and greens. Close seconds were the creamy duck liver mousse with cranberry, spicy shrimp shumai, and falling off the bone pork short ribs. 
   We debated ordering dessert; we were full but ultimately decided if there was only one on the menu it had to be worth trying! It was the biggest cookie I've ever seen, served in a cast iron skillet with vanilla ice cream, caramel, and chocolate. We did not regret our decision at all!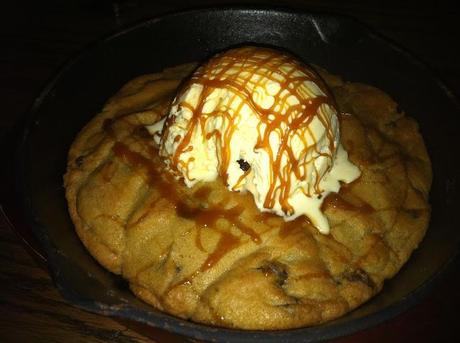 Deep Dish Chocolate Chip Cookie Served Warm and Topped with Ice Cream and Soy Caramel Sauce
   On our way out, the General Manager Sarah, impressed by the sheer volume of our order made sure to introduce us to the Chef. He was incredibly passionate about his food, and gracious enough to pose for a picture!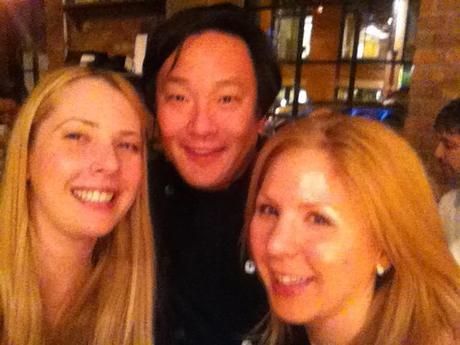 Overall my meal at Blue Dragon was outstanding, I have no complaints about anything I tried. It was worth the wait, and I will definitely be back!