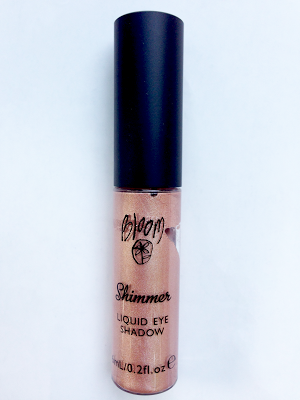 Having seen eyeshadows being produced in various forms, such as crayon, cream, loose and pressed powders, liquid eyeshadow is still pretty uncommon to come across.
Bloom's liquid eyeshadow comes in a small tube, (similar to the size of Maybelline's Superstay 24 hour concealer) holding 6mL/0.2 fl.oz, with a doe-foot applicator.  This product claims that it "goes on like a cream and sets to a lightweight, powder finish".  It does apply like a watery cream consistency, however as you blend it in, it goes creamy midway, then dries to a powdery finish.  The drying time for this is not too long and not too quick- it has enough time allowing you to fix your mistakes, and it dries with a few fanning motions near the eyes so you can move onto mascara/eyeliner!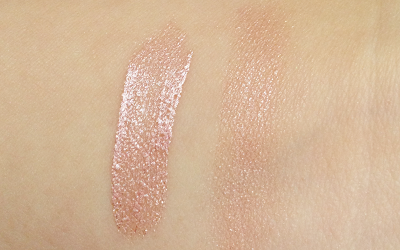 l-r: Bloom Neptune applied with applicator, blended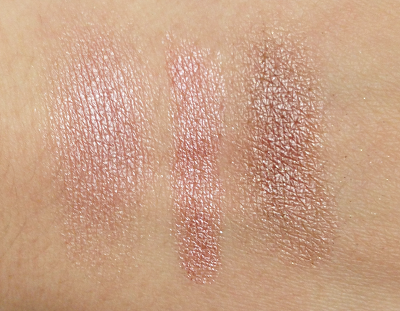 l-r: UD Sin, Bloom Neptune, UD Sidecar

I'm not too familiar with Bloom's products and their naming system, however the 4 colours in the liquid eyeshadow range are all neutral and named after planets.  I purchased this in 'Neptune', which looks a little like rose gold from the tube, but when applied to the skin, the color is something in between Sin & Sidecar (both from original UD Naked palette) This eyeshadow has the versatility to blend out, leaving you with a sheer wash of colour over eyelids, or if left for longer after direct application and then blend to achieve a more concentrated colour.   Wear-time is relatively good without primer, with minimal creasing around the 4 hour mark; although the colour tends to decrease in intensity over time.  Having said that, I have only worn this on its' own, and not sure with how well it performs as an eyeshadow base.
The best thing about this is that once it dries, it doesn't budge.  When you run your fingers over it, there are no transfers to your fingers at all (as seen in the vine demonstration below :P).  The only downside I can think of is that it's possible to overblend, and the color can become slightly patchy in those areas; but this can be easily avoided.
The eyeshadow retails for $22 AUD, according to Bloom's website

here

, but I picked this one up in store for $5 from Cosmetics Fragrance Direct (also available for the same price online

here

). For $5, I would recommend you guys to try it out, as it really saves time from messing around with a brush, and you can blend it out with your fingers much more easily compared to normal powder eyeshadows!


please look past the lighting inconsistencies in this post!




Have you tried Bloom products before?