Remember Test Icicles? Back in 2005, the English dance-punk outfit– formed by a trio of teenage boys, as clearly evidenced by their name– released what would ultimately be their first and last LP, For Screening Purposes Only. Just a teenager myself, I really loved that record; playful, bold, and unpretentious, the band's youth-driven, in-your-face approach managed to capitalize on the explosive (yet short-lived) new rave trend, but also sound completely unlike any other music made that fateful year. But by the time glow sticks and lasers started drifting out of indie rock fashion, Test Icicles had already kicked the bucket. Clearly, the band's fresh-faced leader, Devonte Hynes, was destined for bigger (and ballsier) things.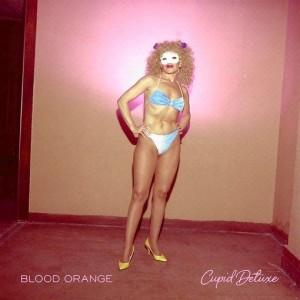 Which brings us to Blood Orange, and what is without a doubt one of the year's very best records, Cupid Deluxe. Working under the name Lightspeed Champion in the late 'aughts, Dev Hynes pioneered his own brand of folk-inspired indie pop; later, he became the in-demand producer for artists such as Solange and Florence Welch. Now, he's shifted gears once more, working with vocalists Samantha Urbani and Caroline Polachek throughout his latest effort as the R&B pop project Blood Orange. Smooth, sultry, and effervescent from start-to-finish, Cupid Deluxe is a careful blend of all the things Dev Hynes does so well; which is to say, pretty much everything.
At just twenty-seven, Hynes has already proven himself a master mixer of genres. He can churn out hits for The Chemical Brothers just as easily as he can craft a breakthrough single for a new artist like Sky Ferreira (which he did, with "Everything is Embarrassing"). Most recently, Hynes collaborated with Britney Spears for her not-so-received new studio album, Britney Jean. He's since confirmed that none of his work made the final album cut. Oh well. That's Britney's loss.
Good thing that everything on Cupid Deluxe is our gain. The album drifts from track-to-track like an elegant, well-choreographed dance; songs glide across a slick dance floor of sounds with total, effortless ease. "Uncle Ace" offers toe-tapping funk grooves and classic, soulful vocals, while "You're Not Good Enough" is full-on groovy, blanketed completely in 80s-style gloss. Tracks like "It Is What It Is" and lush opener "Chamakay" sound exotic yet somehow feel familiar, courtesy of snappy beats and island-inspired instrumentals. Later, London rapper Skepta delivers a solid verse on "Hight Street," but no matter who or what pops up on Cupid Deluxe, Hynes' production never fails.
Based in New York City since 2007, Dev Hynes has now created his first near-perfect pop record; like its vaguely seedy album art suggest, Cupid Deluxe is a romantic night out on the town, filled with weird and wonderful surprises along the way.

4 / 5 bars