Continuing the blended mini-theme we're dipping into a blend of straight bourbons review: Blood Oath Pact 6. A blend of KY bourbons aged 14, 8 and 7 years that was finished in ex-Cognac casks for an undisclosed amount of time. An interesting addition to this continuing series.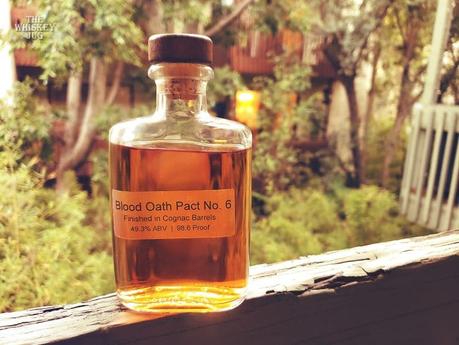 It's a pretty straightforward and transparent release, as all the Blood Oaths have been, so not much else to say up here. Well, besides to remind y'all that this is classified as a whiskey specialty and not an actual bourbon because of the cask finishing. But that's a minor detail; classification doesn't affect the smell or taste of what we're drinking, just how we talk about it.
Blood Oath Pact 6 Review: Details and Tasting Notes
"A masterful union of well-bred bourbons-each on its own a ryed to be remembered. One, a 14-year– dark with oak, leather and tobacco. Two, and 8-year—toasty warm with cinnamon, allspice and nutmeg. And three, a 7-year—full of roasted caramel and honeyed raisin, then rested and mellowed in Cognac casks for a finish that's all Kentucky heat with a wisp of crème brulee sweet. A votre santé."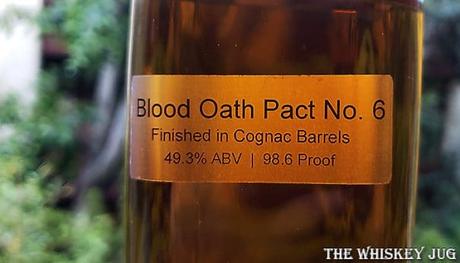 Details (price, mash bill, cask type, ABV, etc.)
Region: Kentucky, USA
Blender: LuxCo (likely sourced from Heaven Hill Distillery)
Mash Bill: Undisclosed (HH's is 78% Corn, 10% Rye, 12% Malted Barley)
Cask: New Charred Oak and ex-Cognac
Age: 7 Years
ABV: 49.3%
Non-Chill Filtered | Natural Color
Batch: 6
Bottles: 17,000 Cases (102,000 bottles)
Price: $100*
Tasting Notes
EYE
Copper
NOSE
Spice, oak, leather, hazelnuts, pepper, orange zest, vanilla and a touch of floral and grapey sweetness.
PALATE
Oak, spice, leather, nuts, cocoa, pepper, orange zest, caramel and a touch of grapey sweetness.
FINISH
Medium -> Oaky, grainy sweet and spicy that fades to brown sugar and peanuts.
BALANCE, BODY & FEEL
Ok balance, medium body and a dry, lightly tannic, feel.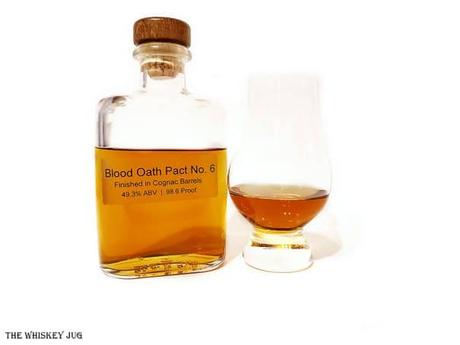 Blood Oath Pact 6 Review: Overall and Score
Aroma is light and spice-driven with some herbal and rye bread-like notes showing as it opens, which works well with the sweetness – it's my favorite part of this whiskey; Palate is good but feels like a muted version of the aroma and doesn't come through as richly; Finish ends up turning to an almost cloying sweetness. Not bad, but I like Pact 5 more.
Though really, the pinnacle is still that fantastic Blood Oath Pact 2. I love that they're experimenting and changing and evolving and I love that they used ex-Cognac casks in the Blood Oath Pact 6 – but I'm not sure that cognac casks work well with bourbon. Looking for a quick comparison, the Belle Meade XO Cognac Finish comes to mind where I ended up feeling the same way. It's good, but doesn't feel fully cohesive.
SCORE: 3/5
*Disclosure: The sample for this whiskey review was graciously sent to me by the company without obligation. The views, opinions, and tasting notes are 100% my own.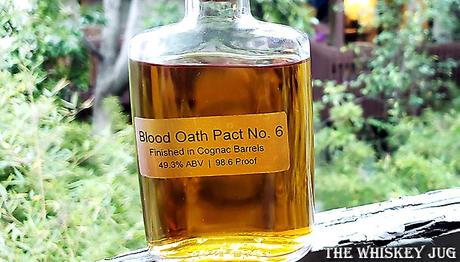 Blood Oath Pact 6 Review
$100
Overall
3.1
Nose

(3.5)

Palate

(3)

Finish

(3)

BBF

(3)
Sending
User Review
0

(

0

votes)
Comments Rating
0

(

0

reviews)

Blood Oath Pact 6 Review Summary
On the whole it's not bad and works exceptionally well in an Old Fashioned or Gold Rush, but on it's own it doesn't quite feel like the cognac has enhanced the bourbon too much and might have been better without it.
'''''''''